Digital Support for Associations
Working with associations has been a natural fit for us over the years. We understand associations want to attract new members, but they also want to clearly demonstrate value to their current members. Our approach to digital marketing, our ability to recognize opportunities to create efficiencies, our knowledge of B2B sales processes, and our years of experience all come together perfectly in the solutions we provide.
Association leaders and board members have a lot of great ideas and initiatives, but not always the bandwidth to execute them. Running the association, building relationships with new and existing members, and working at their own jobs takes a lot of time and energy. That's where we come in.
Here are some examples of the ways we have partnered with associations to help them acquire new members, increase member engagement/retention, and save time through digital efficiencies.
Online Member Database
Featured Association: Associated New York State Food Processors
The Member Database is a tool that lives on your association website used to search for members of an association.
Having your members listed in this database will give them exposure to new prospects and strategic partnerships.
Each member company has its own profile page where visitors can find information about the company such as contact information, company description, capabilities, open job positions, and more.
Visitors can also submit a request for quote to the company directly through their company profile on your association website.
Members who receive quotes through the database will be notified that the quotes were received through the association, adding to the value of their membership.
Member Capability RFQ
Featured Association: Rochester Technology and Manufacturing Association
The Member Capability RFQ is a feature that allows website visitors to request a quote from several members of your association at the same time.
When a website visitor selects an area of service related to their RFQ, association members who offer that service will be the ones who receive the quote.
This adds value to many members at the same time by giving them an opportunity to respond to an RFQ within their wheelhouse.
webSurge provided the RTMA with a website that captured the essence of what the organization offers to its members. Its excellent staff worked with us to understand the dynamics of the RTMA and transfer that energy into the website. Our website is a tool that has worked especially well for us as a result of webSurge's engagement. I strongly recommend their services to those of you in the association sector.
Password Protected Pages & Documents
Featured Association: Greater Rochester Association of Realtors
You may need to limit access to certain parts of your association website so that sensitive documents are hidden from the eyes of the public.
With Password Protected Pages & Documents, you can restrict access to content on your association website to only members, specific members, or specific groups of members.
This feature can protect PDF's, Word Documents, PowerPoint Slide Decks, Website Pages, and more.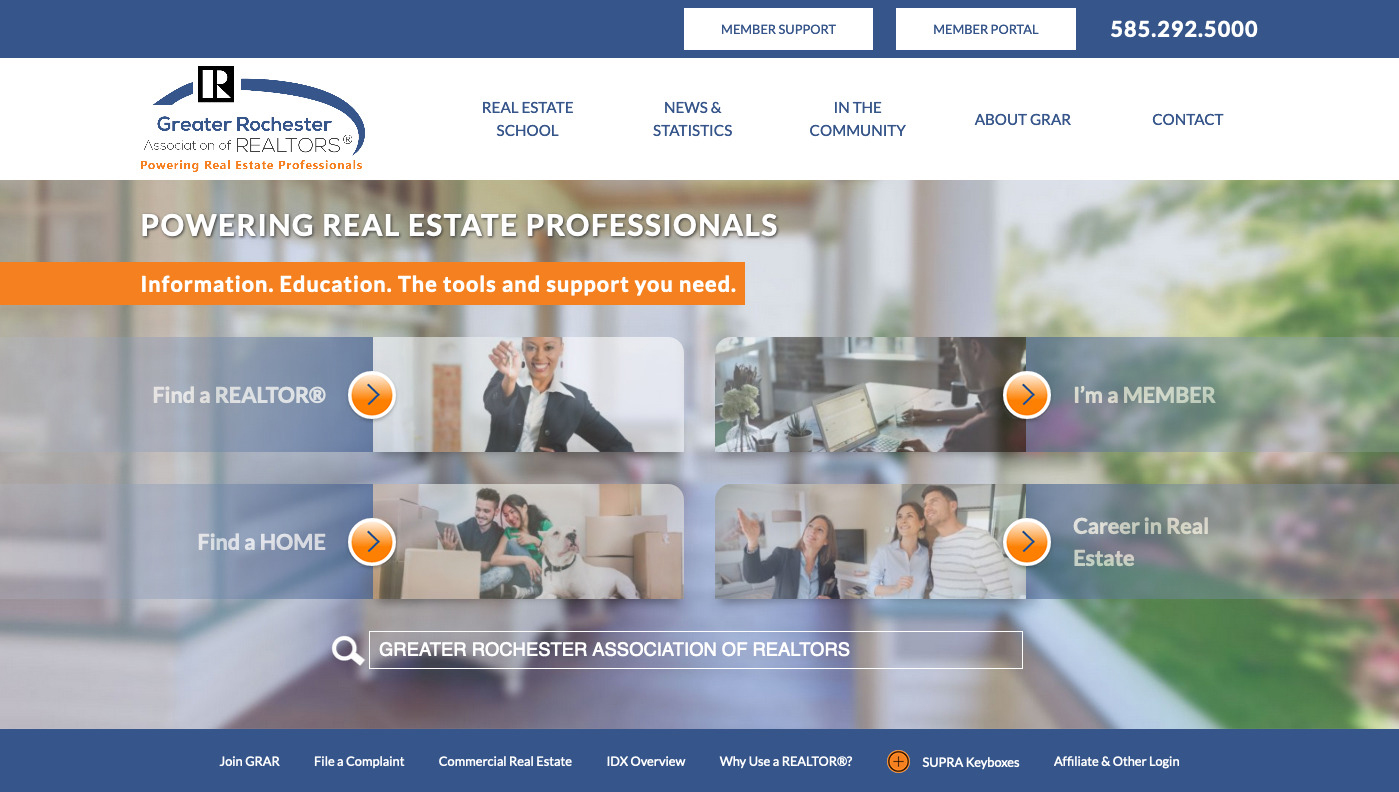 webSURGE customized a solution that has greatly improved our member experience. Their pleasant, can-do attitude along with their rapid responsiveness throughout the design, build, and support phases makes working with their team a breeze.
Member Job Board / Recruiting Support
Featured Association: Associated New York State Food Processors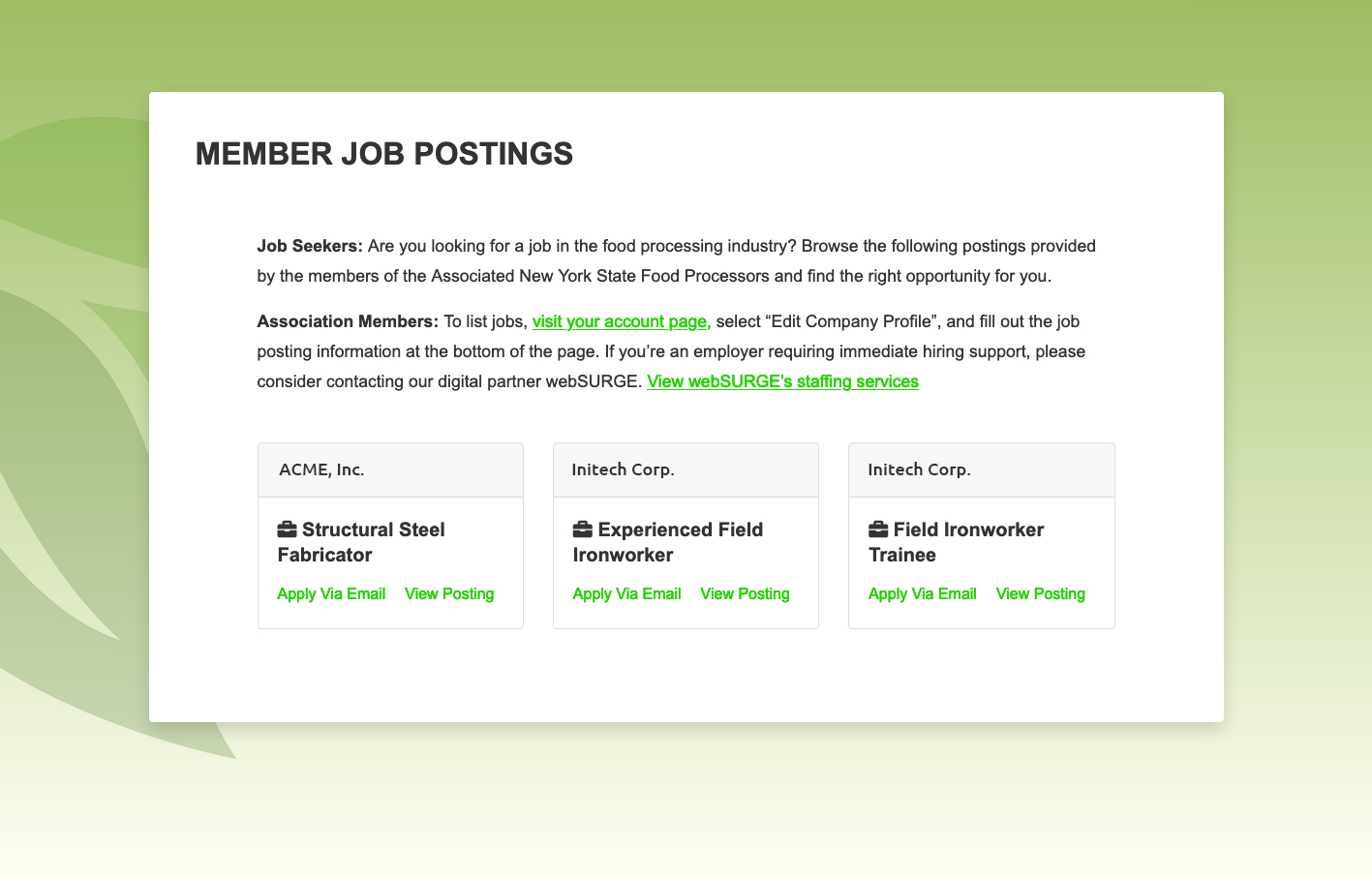 The Member Job Board gives your association members an opportunity to post open job positions to the association website.
The job postings are displayed prominently throughout the website as well as on the member's company profile page.
Job candidates can apply via email or a link provided by the association member company.
The team at webSURGE can also partner with your association to provide an extra layer of recruitment support via advertising on social media, helping your members find qualified applicants more quickly.
Ticketing System
Featured Association: Kenrick Corporation
The ticketing system is an online portal that can be used to field and track support requests.
Support requests can be automatically assigned to an agent via custom parameters or categories.
Individual support agents have their own dashboard from which they can view and respond to support requests. They can optionally view their own tickets or see the tickets of other agents.
It provides reporting functionality that allows managers to track the timeliness of support responses as well as tagging requests by status (In Progress, Closed, etc.).
Kenrick Corporation has used this feature to manage maintenance requests for the numerous homeowner associations that they manage.
The ticketing system can be adapted to meet a variety of member support request needs.
Tickets also support advanced categorization, allowing them to be segmented into groups such as a homeowner's association community.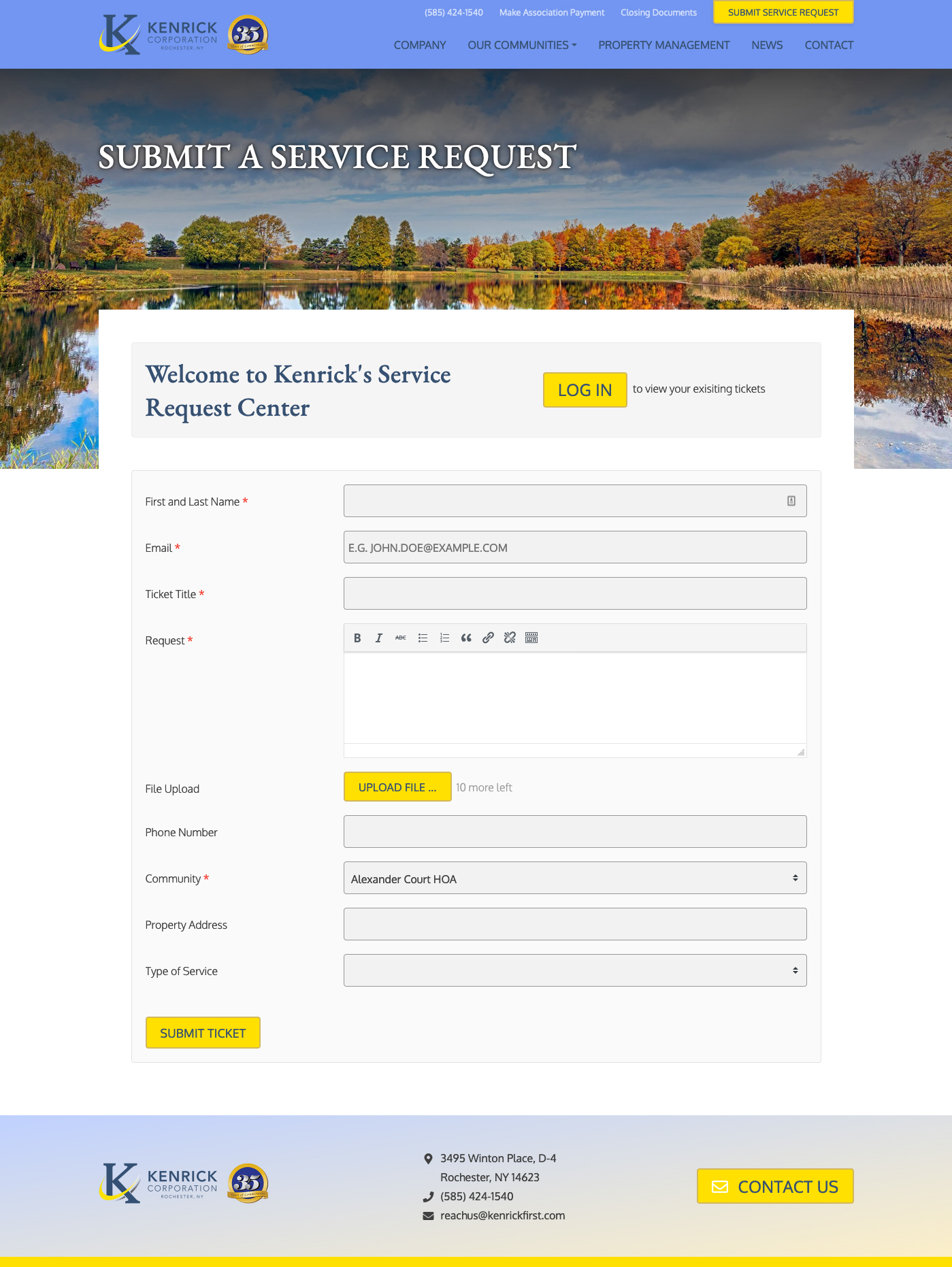 Member Acquisition CRM Platform
Featured Association: Entrepreneurs Organization: WNY
We help associations acquire new members by setting them up with a customer relationship management (CRM) platform.
The CRM helps associations manage contacts and keep track of prospective members and their level of readiness to join the association.
This allows you to track every interaction with prospects so that your member acquisition program can become more efficient, giving you more time to provide value to your existing members.
Additional features include setting outreach reminders, automating value proposition emails, and scoring/notating your prospects to have a better sense of which ones are more likely to convert into new association members.
webSURGE has done an amazing job at creating and maintaining our CRM platform. They are extremely knowledgeable, responsive and a pleasure to work with. We are very happy with their performance.
Association Industry News & Events Feed
Featured Association: Associated New York State Food Processors
The Industry News & Events Feed automatically pulls in relevant information in your association's market from both external websites and the association website itself.
This feature helps keep your members coming back to the association website by keeping them up to date on industry news and engaged with events.
The feed also gives your association an opportunity to easily provide basic marketing support to organizations related to the association by promoting their news and events on the association website from within the feed.
Fundraising Support
Featured Association: National Center for Missing and Exploited Children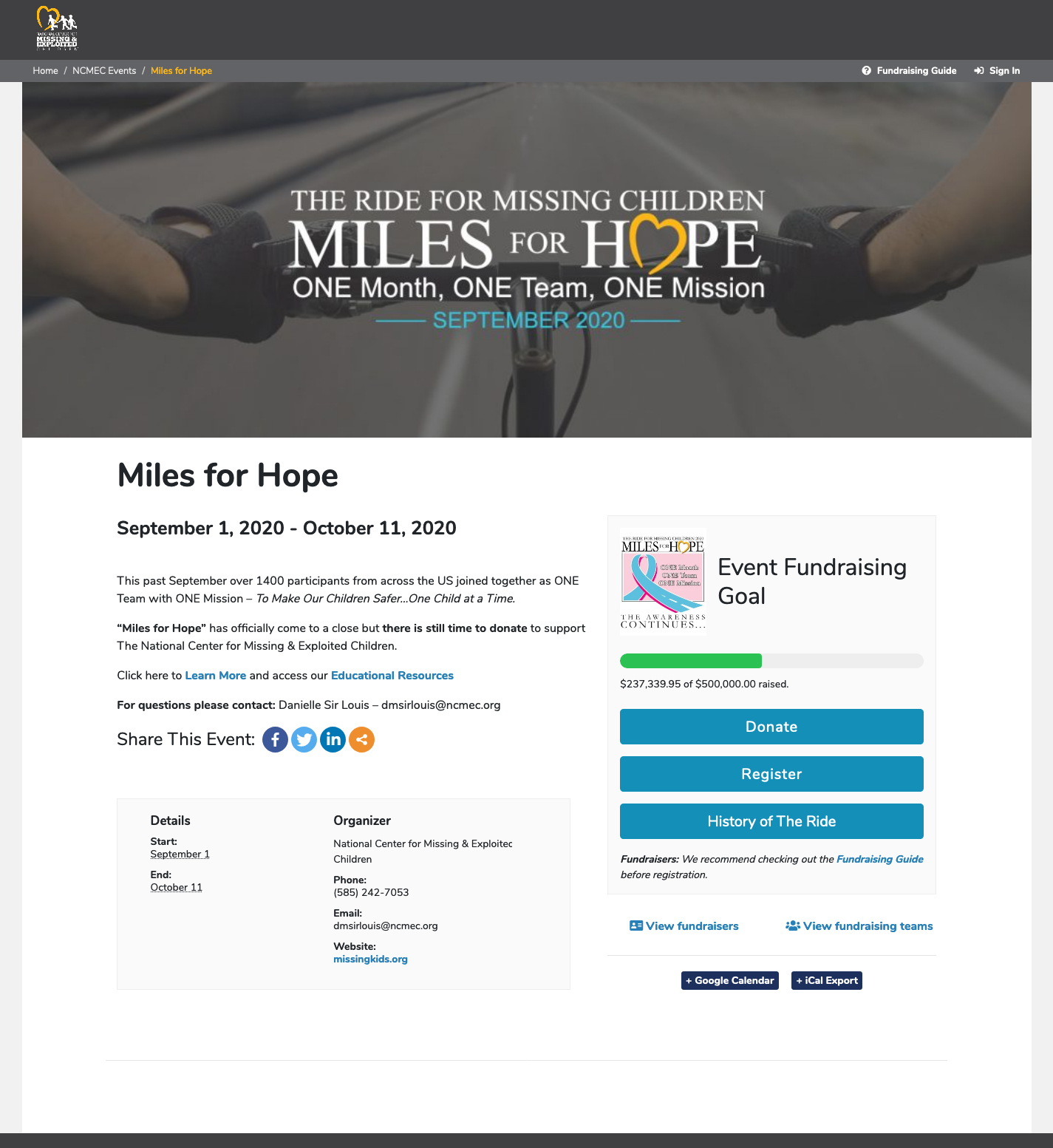 We partnered with the National Center for Missing and Exploited Children (NCMEC) to create an event registration and peer-to-peer fundraising platform.
The fundraising platform allows donors to register for events and set up their own fundraising pages, which can then be shared for the purpose of raising funds and awareness for the organization.
Events have the capability of being run across multiple locations at different dates.
The platform supports the creation of fundraising teams, allowing families or members of a common organization to work together and support the fundraising effort.
It also has reporting capabilities, helping event administrators funnel donations to the appropriate location within NCMEC and manage the distribution of fundraising collateral such as gifts and event apparel.
Association Website
Featured Association: Rochester Technology and Manufacturing Association
The website is the digital face of your association
It may be the first interaction that prospective members have with the association
It houses most of the features listed above and can be a major asset to your membership and organization as a whole.