Accelerated Inbound Marketing
Rapidly fill your pipeline with high-potential opportunities and connect them to your sales team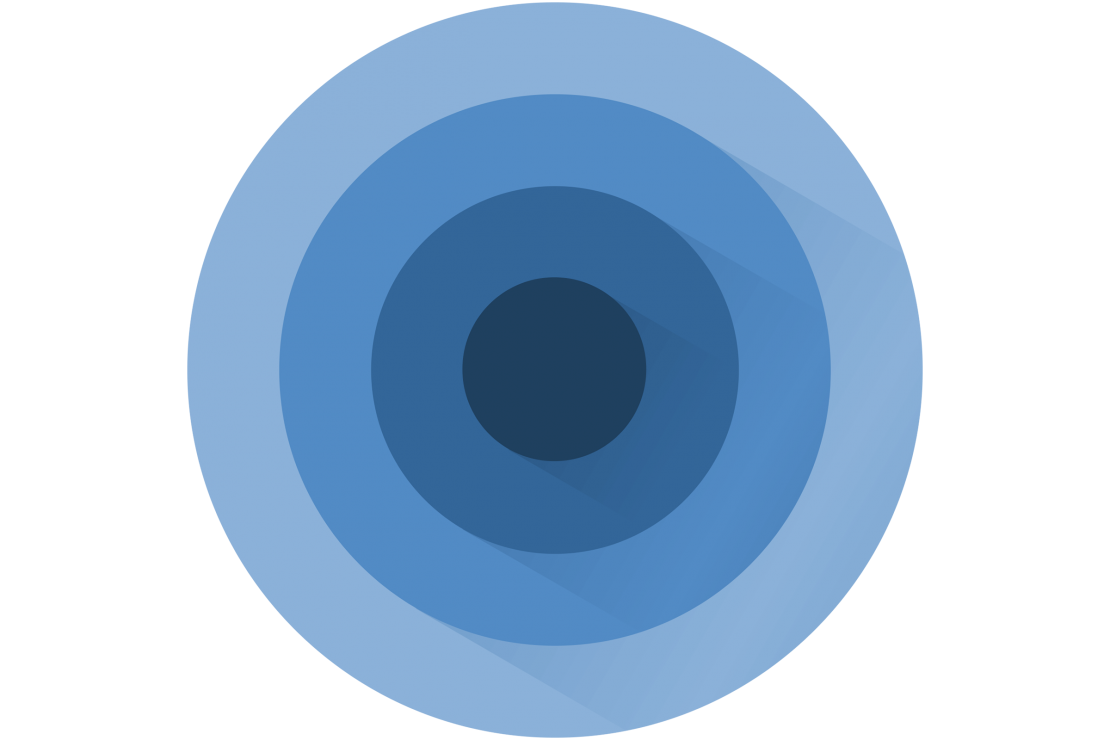 What is Accelerated Inbound Marketing?
Accelerated Inbound Marketing allows you to rapidly fill your pipeline with high-potential opportunities and connect them to your sales team.
Rather than waiting to be found (inbound marketing), the AIM strategy puts you directly in front of your prospects with a combination of targeted advertising and direct contact.
The AIM strategy is built for companies who have a succinct product offering directed towards specific audience groups, who are looking to grow their pipeline, expand into new territories, and/or enter new markets.
Accelerated Inbound Marketing
Build a list of leads by acquiring website form submissions with continuous marketing
Determine your High-Potential Opportunities prior to beginning marketing
Create Message and Offer based on keyword research, personas and decision phases
Create hyper-specific Message and Offer for the end-user and/or decision-maker based on pain points and use cases
Utilize organic social, organic search and content marketing with some paid tactics
Utilize targeted digital advertising and direct outreach to connect with your HPOs
Follow up with web leads after their form submission
Actively drive conversations with HPOs throughout process
AIM Process
Accelerated Inbound Marketing starts with building a list of High-Potential Opportunities, and leverages multiple channels to place your brand and capabilities in front of your target prospects.
By combining digital and direct outreach, you will increase the probability that you will be able to start a conversation with your ideal customers, in a manner similar to how you may follow up after a trade show meeting.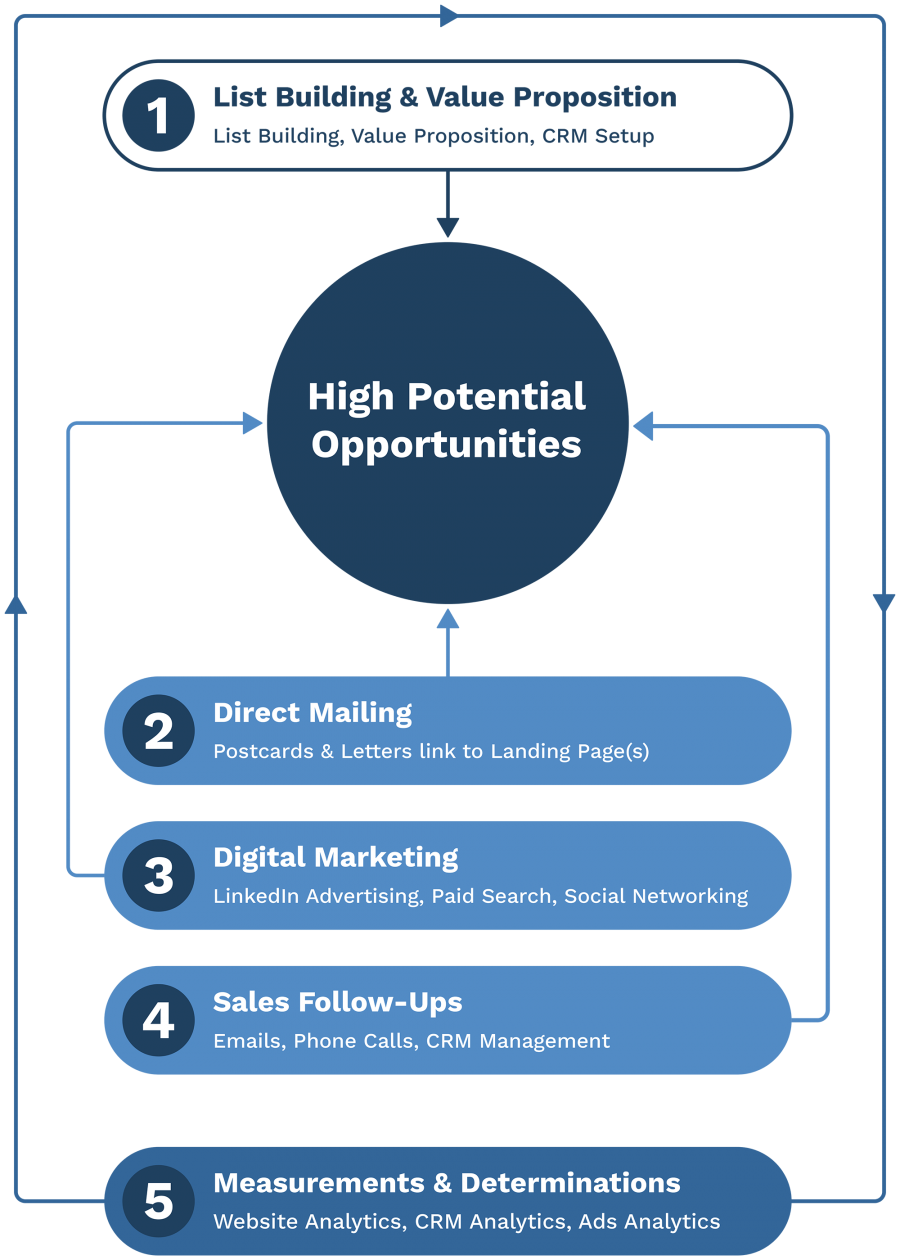 Step 1
Build Your List and Create Your Value Propositions
In this preparatory step, we will utilize existing customer and prospect lists and/or help you build out new lists of High-Potential Opportunities – companies and individuals in your target market that you could serve well.
We'll then work together to develop the value proposition language for these prospects, which will be used across the AIM campaign.
It's essential that the subject-matter experts (e.g. your sales team) and marketing team come together and write copy that will work across channels, and directly relate to your target prospects' business needs.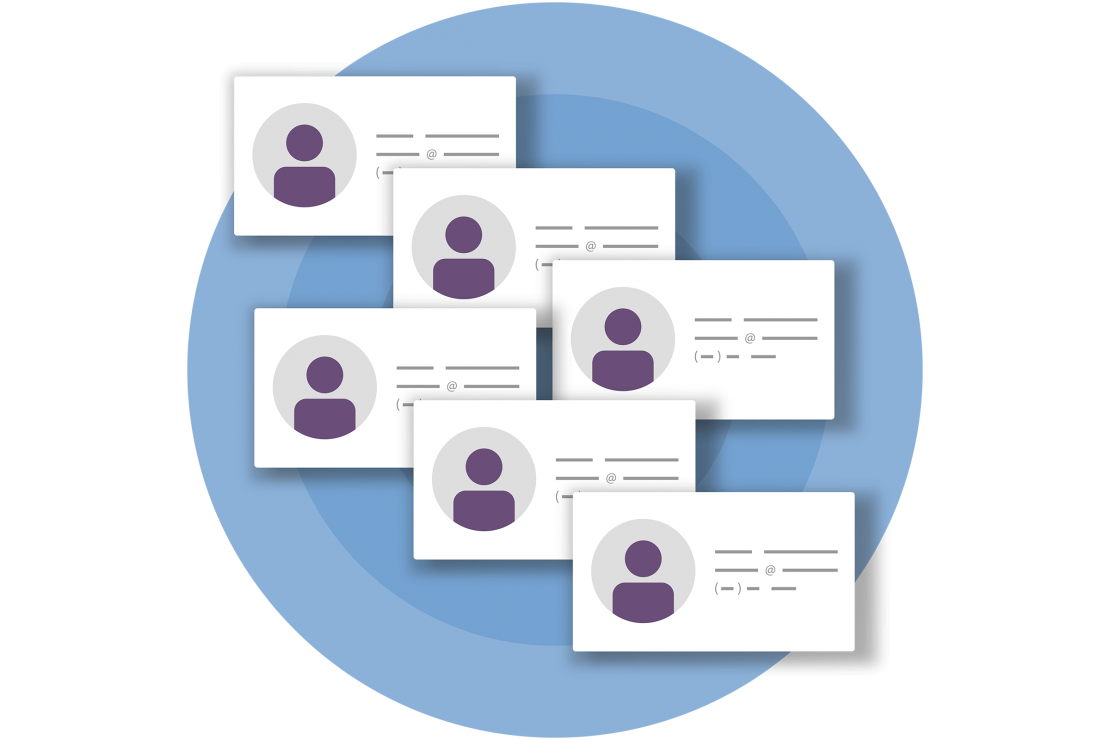 Step 2
Send Direct Mailings
Once we have our list of companies and contact list (with email and phone number), we'll begin the first phase of direct outreach.
Your prospects will first receive a branded post card with a brief summary of how your solutions can help solve your prospects business challenges.
The post card will be followed by a letter, which is sent from one of your sales people, and goes into more detail about your prospects challenges, and a little bit about your solutions.
When possible, we'll look to send these recipients to a specific page on your website that shows examples of your solutions.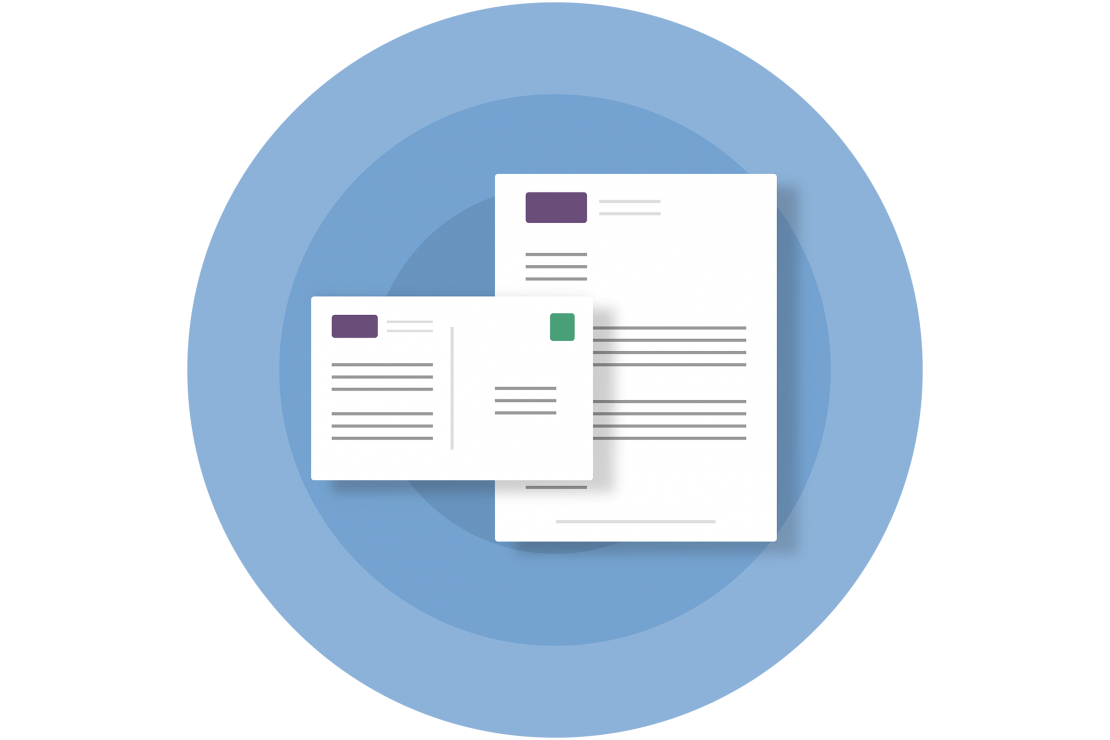 Step 3
Target with Digital Marketing
We support your sales team by reaching your prospects online at the same time as you are reaching out to them directly.
LinkedIn advertising allows us to upload your company and customer lists, and serve messages directly to the people we are mailing, emailing and calling.
Google enables you to earn traffic from prospects searching for the solutions you offer.
Combined, this ensures that your brand goes to the top of the mind of your prospects.
At this stage, your sales team is able to call and email your prospects directly because they have been warmed up by post cards, letters, and solution-focused digital advertising.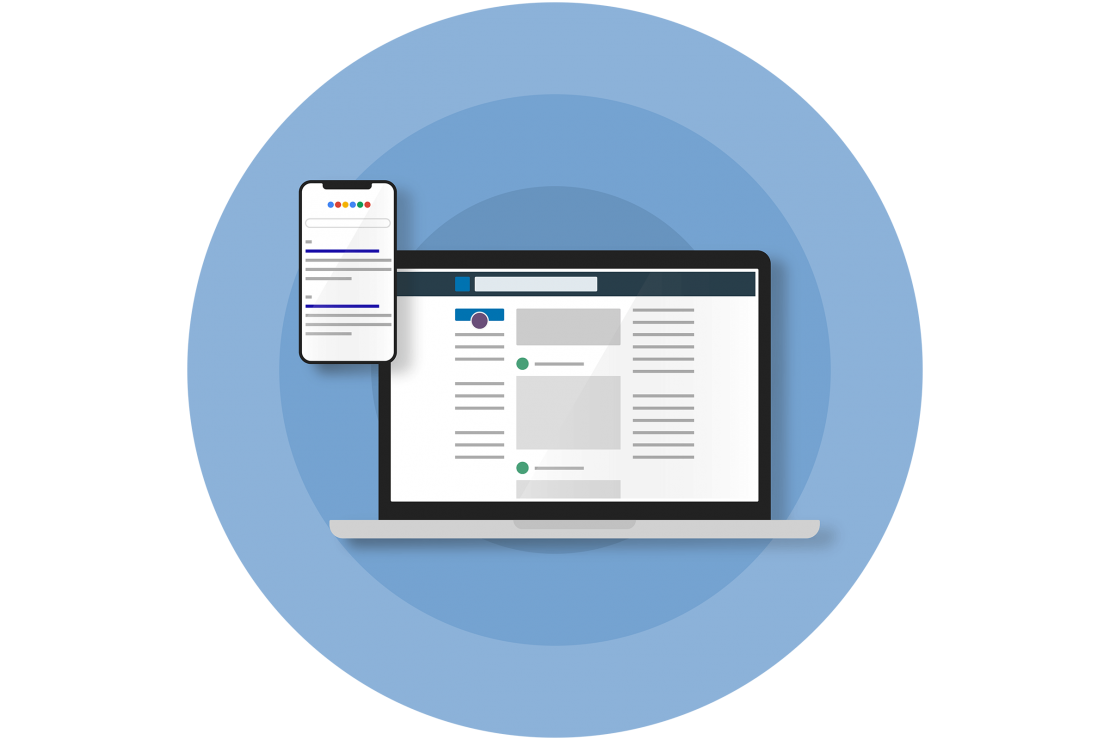 Step 4
Emails and Phone Calls
After the initial rounds of direct outreach via post cards and letters, and once your audience has begun to see your digital ads, it's time for the sales team to begin reaching out via emails and phone calls.
If your sales team currently has a process in place for this kind of outreach, we can support you with marketing technology to make it more efficient.
If not, we can help you with this process by training you with our CRM, assisting with messaging, and providing data and insight as to which companies have the highest potential for conversion.
With persistence and patience, your sales team will begin to make connections with your key prospects and you will begin to see new orders in your operation.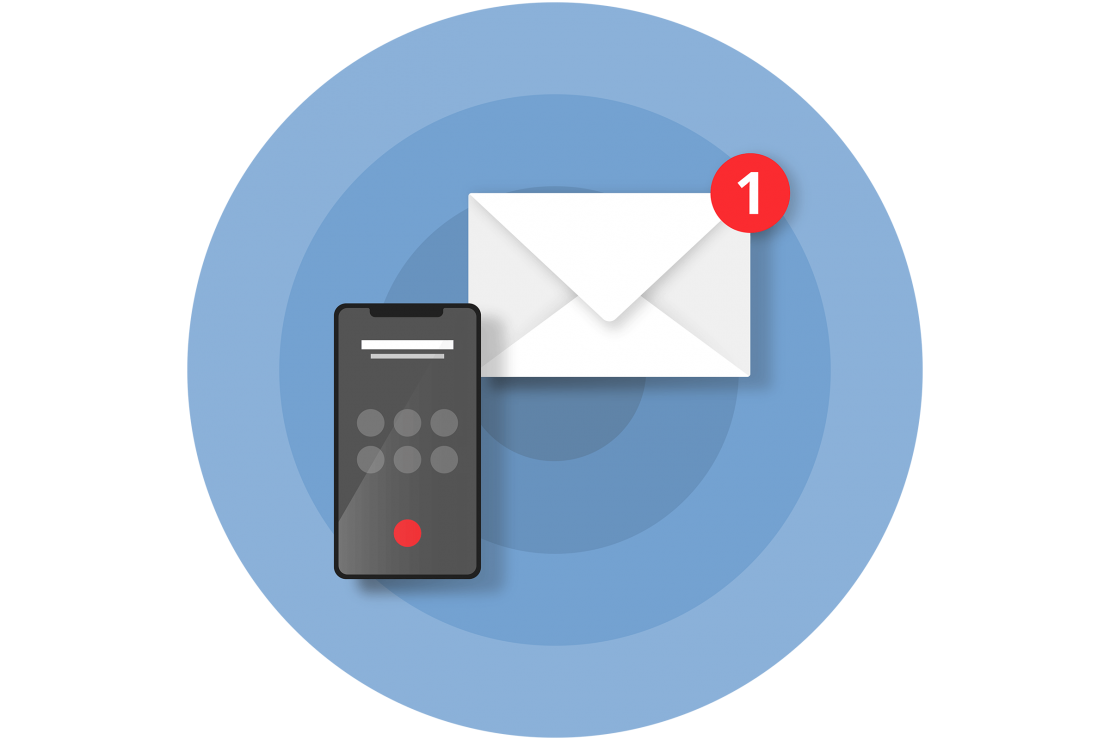 Step 5
Measurements & Determinations
As the process continues, we will rely on Marketing Data, CRM Data and insight from your sales team as to how well the campaign is performing and how your prospects are moving through your pipeline.
Since this is a long-term campaign, we will craft several iterations throughout the process, continually building and refining lists, executing new rounds of direct outreach, and optimizing the digital marketing campaigns.
One key to success in this strategy is a consistent feedback loop between the marketing and sales team, so we can help each other discover new opportunities, eliminate bottlenecks and stay efficient.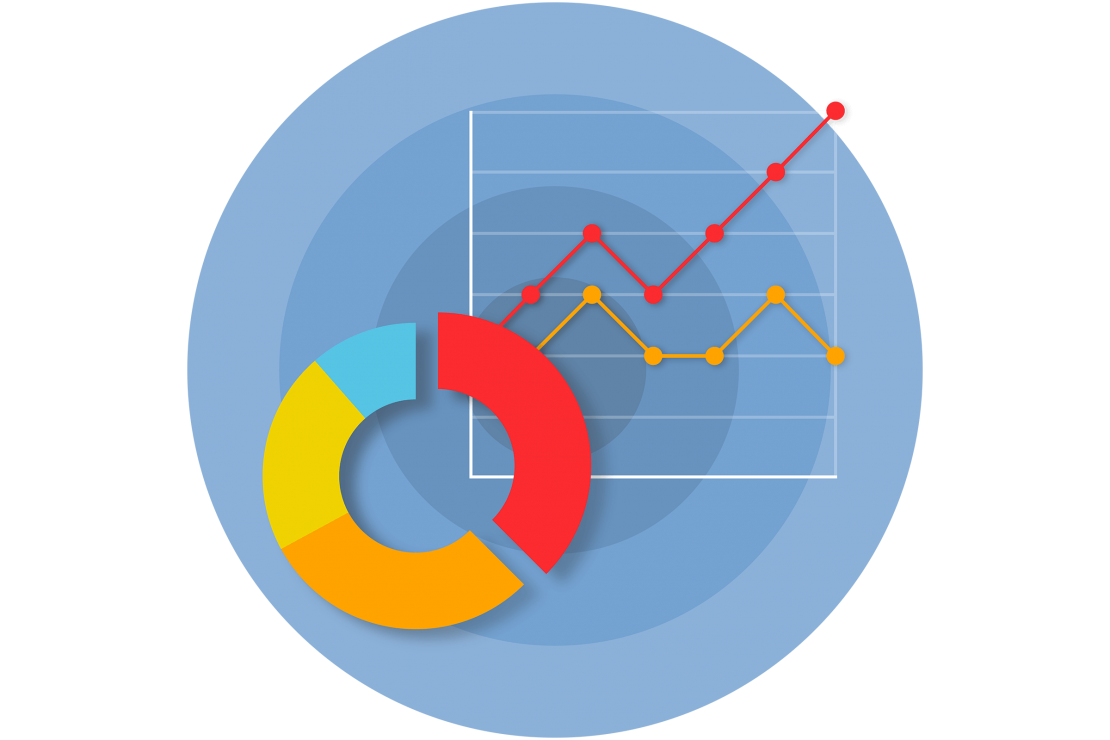 AIM Timeline
An AIM Campaign typically takes around 4 weeks to launch.
The main activities of the campaign are ongoing, and should continue for at least 9 months in order to allow ample time for your digital advertising to saturate the market, and for your sales team to conduct thorough follow ups. We also need to allow time for your natural buying cycle to take place, which may depend on your industry, products and customers.
Sequence of events is important at the start because we will want to allow the digital ads and mailings to hit your prospects before you begin to pick up the phone and send direct emails.