12 Professional Websites for Electricians: A Blueprint for Online Success
In today's digital age, having a professional website for your electrician business isn't just an option; it's a necessity. Your website serves as the digital front door to your services, helping you attract more customers through organic searches and establish credibility in your field. In this comprehensive guide, we'll explore what makes a good electrician website, recommend website builders, discuss great website designs, explain why electricians need websites, and outline the process of creating one. Plus, we'll showcase 12 exemplary electrician websites and delve into what makes them stand out in the digital landscape.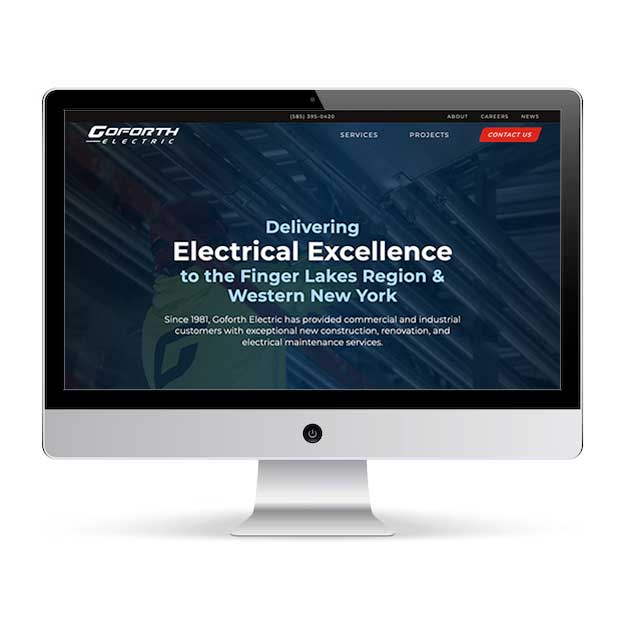 Why Electricians Need Websites
In today's competitive business landscape, having a professional website for your electrician business isn't just an option; it's a necessity. Your website serves as the digital front door to your services, helping you attract more customers through organic searches and establish credibility in your field. Let's delve deeper into why electricians should invest in a website:
Enhanced Visibility and Accessibility:
Electricians often rely on word-of-mouth referrals, but in a digital era, potential customers are more likely to turn to the internet to find services. A website ensures that your business is discoverable 24/7, providing accessibility to potential clients at any time.
Building Credibility:
A professionally designed website conveys trust and expertise. When potential customers search for electrical services, a well-crafted website can be the deciding factor in choosing your business over competitors.
A Central Information Hub:
Your website acts as a centralized hub for all essential information about your electrical services. It's where you can showcase your range of offerings, share testimonials from satisfied clients, and provide clear contact information, making it easy for prospects to get in touch.
Local Search Optimization:
Local search engine optimization (SEO) is vital for electricians, as most customers prefer to hire local professionals. By optimizing your website with location-specific keywords, meta tags, and creating a Google My Business listing, you can significantly increase your visibility in local search results.
12 Professional Electrician Websites
To help you gain inspiration for your own website, let's take a closer look at what we consider to be 12 standout electrician websites and what makes them exceptional:
Example #1: Goforth Electric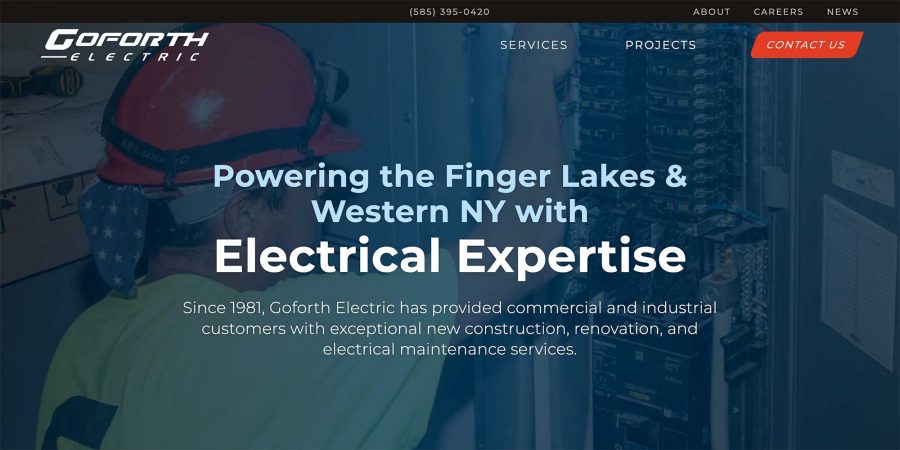 Why It's Good: On the Goforth Electric website, each picture is worth 1,000 words. The media clearly showcases their expertise and commitment to innovation.
Example #2: Douglas Electric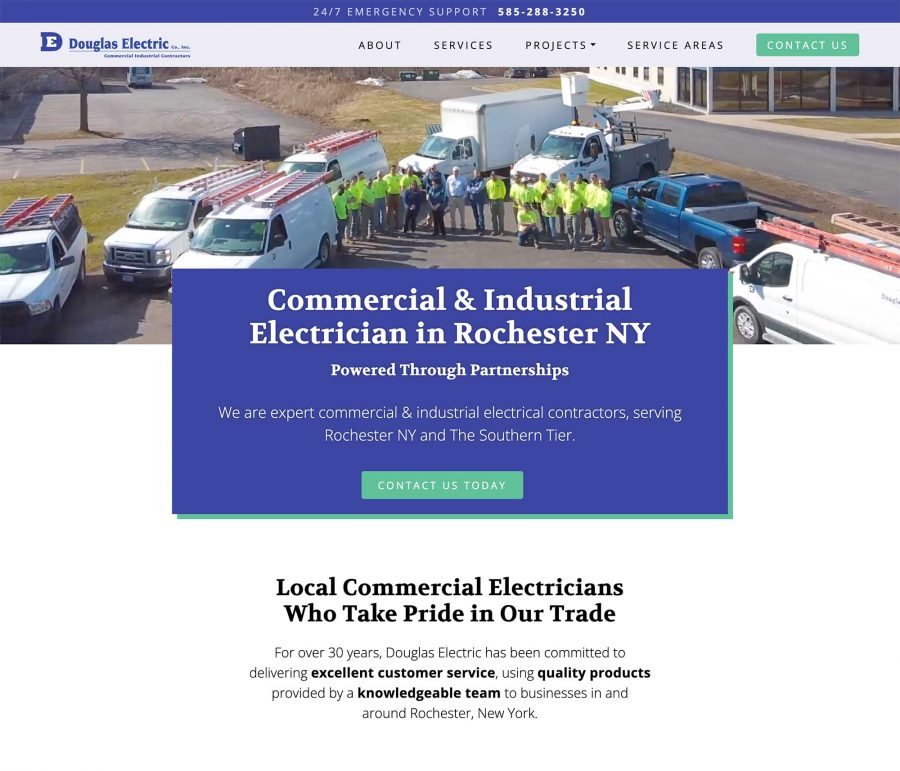 Why It's Good: In addition to showcasing the company's expertise via photography, the Douglas Electric website comprehensively describes their commercial low voltage installation services, earning them top-tier visibility on Google Search.
Example #3: Aaron's Electrical Services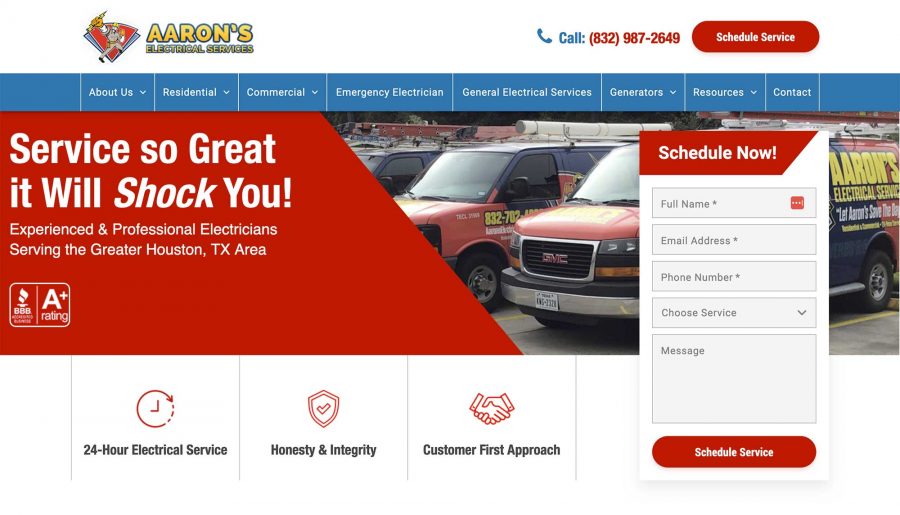 Why It's Good: Aaron's Electrical Services features prominent call-to-actions, ensuring it is super simple for prospects to inquire about electrical services. All of its services are described in-depth to help maximize visibility on Search Engines.
Example #4: Southwest Industrial Electric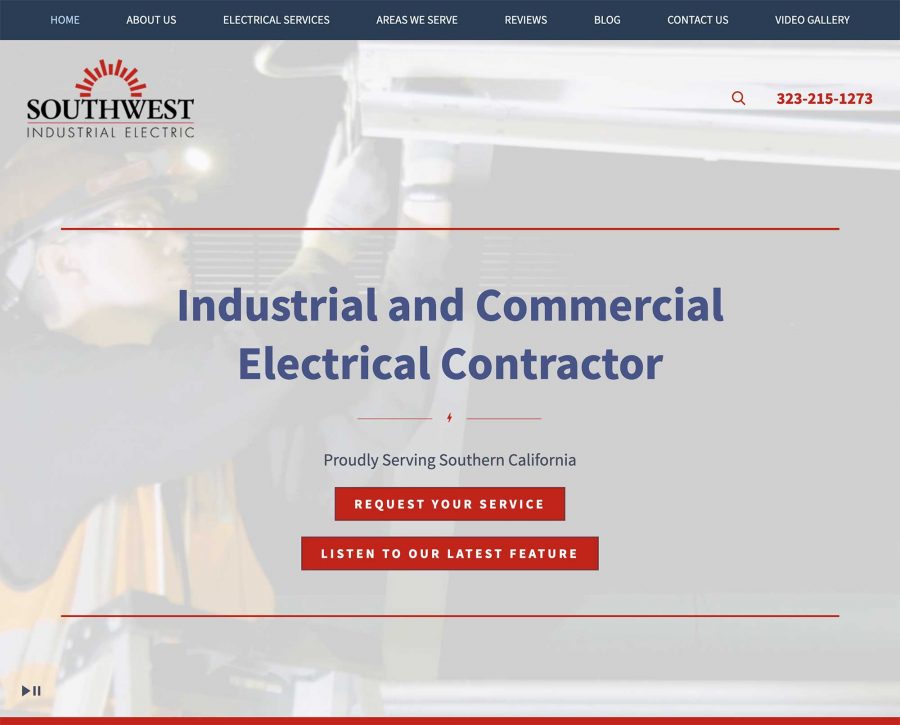 Why It's Good: The Southwest Industrial Electric website features a clean and easy-to-navigate design. They also put a special emphasis on building out individual pages for the cities and counties they serve, which makes a major impact on their local Search Engine visibility when prospects from those locations search for the services they provide.
Example #5: U.S. Electric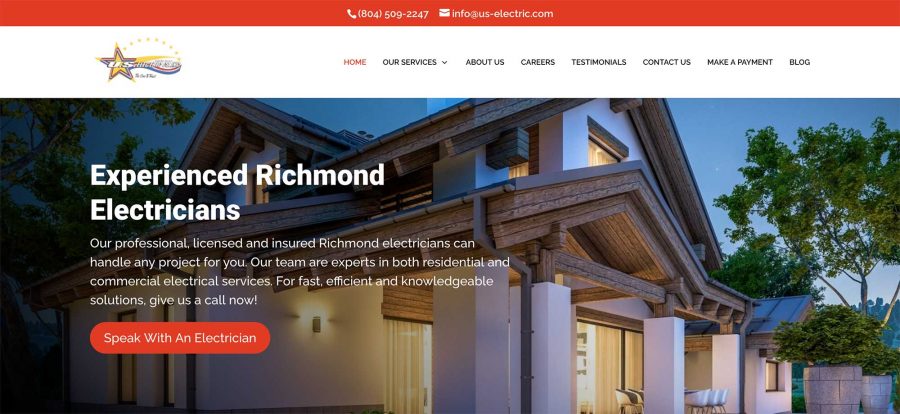 Why It's Good: The visuals on the U.S. Electric website focus on the great work they've performed for their customers. Coupled with several detailed residential and commercial service pages, it is a workhorse in terms of capturing Search Engine visibility and representing the company's offering really well.
Example #6: Penna Electric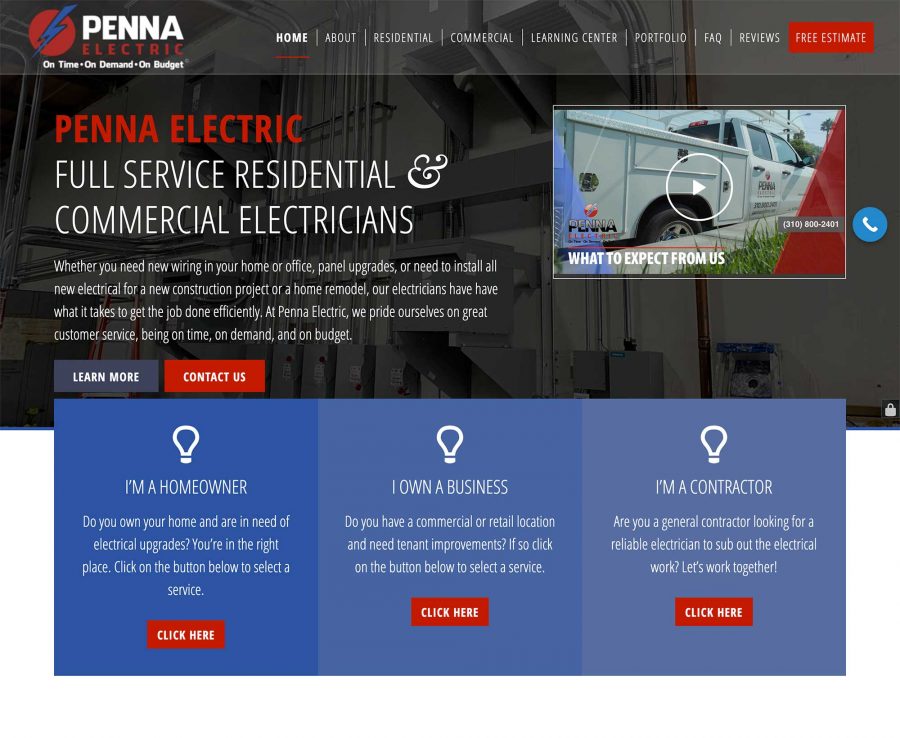 Why It's Good: Featuring a truly massive and impressive blog of articles about everything electrical, the Penna Electric website literally speaks volumes. These informational posts help to support the website's visibility by showing Search Engines that the business is the authority on the industry.
Example #7: EP Electric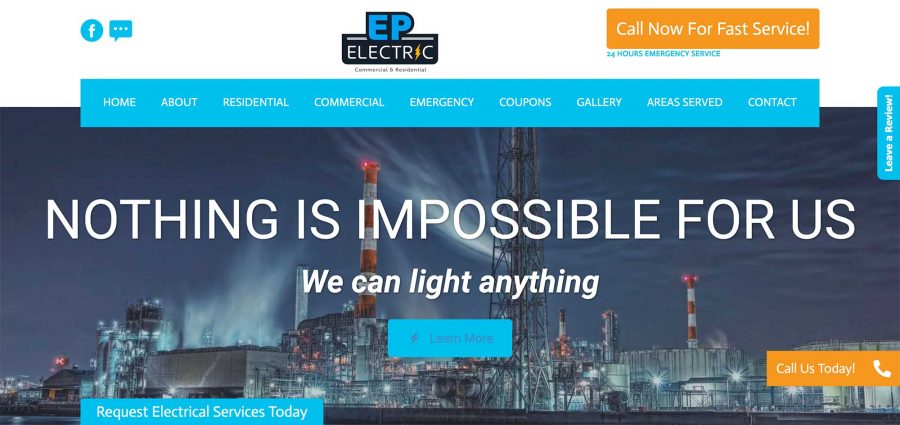 Why It's Good: EP Electric does a great job of showcasing their accolades on their website. Additionally, they dive deeply into listing their commercial electrical services which ultimately helps prospects find them on Google and other Search Engines.
Example #8: KB Electric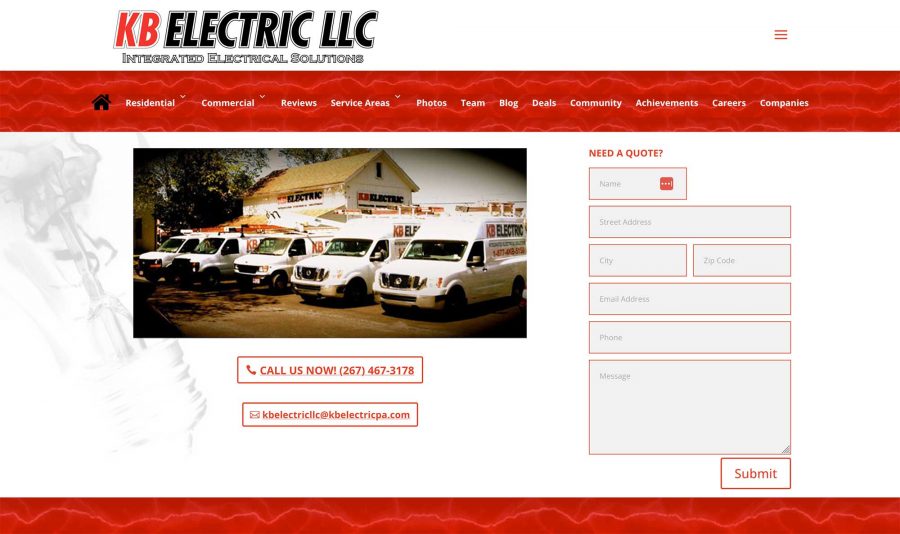 Why It's Good: In addition to a well-populated blog, KB Electric does an outstanding job listing each of their services as well as hosting dedicated pages for the counties they serve. These features make them much easier for prospects to find than their competition.
Example #9: Access Electric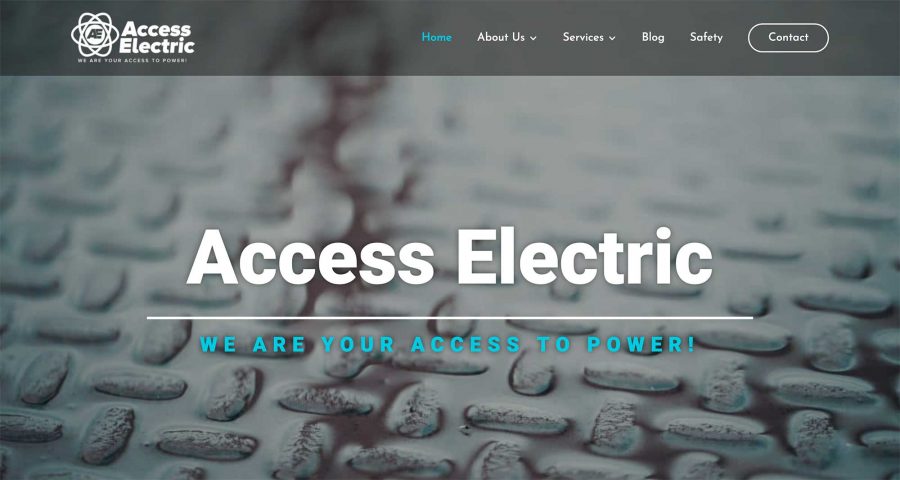 Why It's Good: The Access Electric blog showcases their authority in the electrical industry by speaking on a variety of topics. This authority translates into plenty of visibility on Google Search.
Example #10: FSG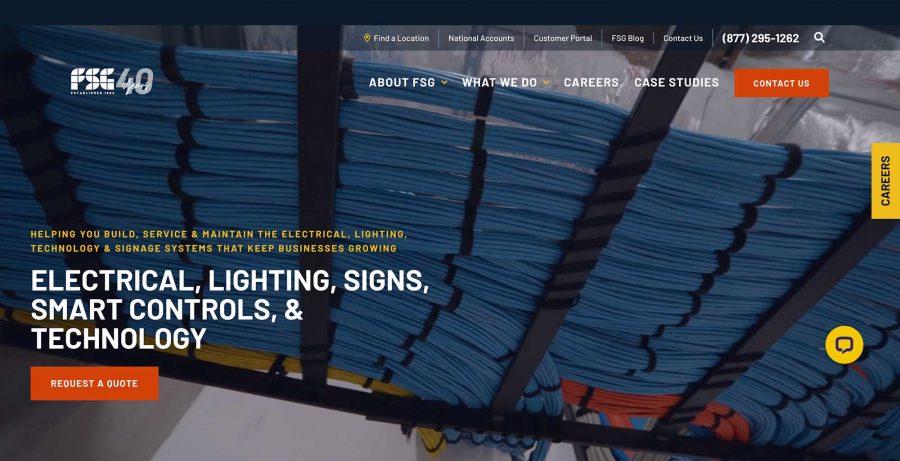 Why It's Good: The FSG website has a national presence for electrical services. It combines stunning visuals with well-detailed service pages to put the company's best foot forward online.
Example #11: Rio Electric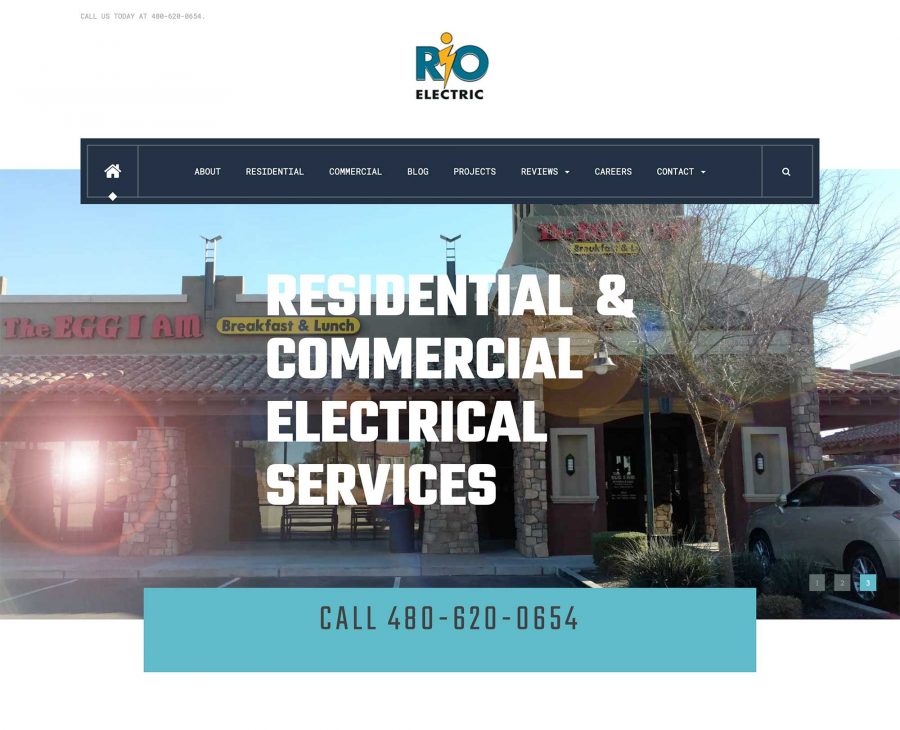 Why It's Good: The Rio Electric website features a blog, demonstrating their expertise and keeping visitors engaged. It also takes its call-to-actions seriously with a super prominent phone number listed on their homepage.
Example #12: Mister Sparky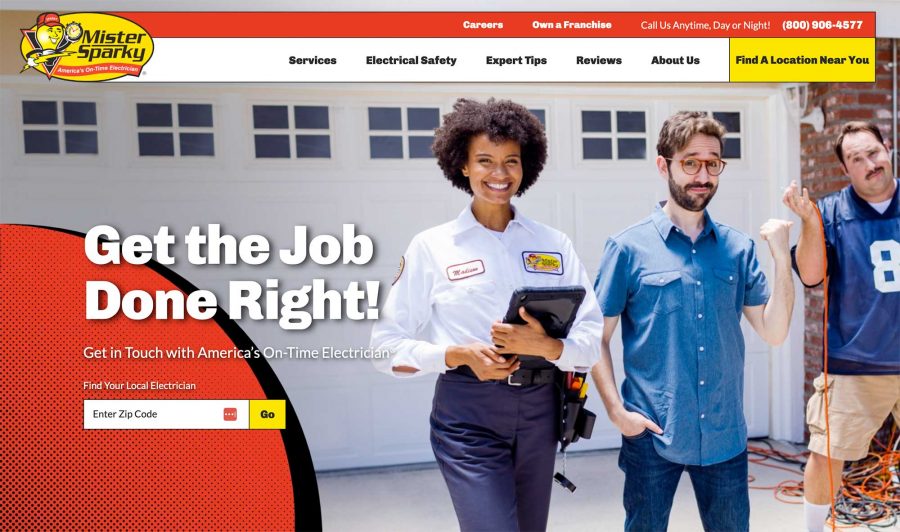 Why It's Good: The Mr. Sparky website is user-friendly and mobile-responsive, ensuring a seamless experience for all visitors. It also features tongue-in-cheek humor in its imagery and verbiage, giving prospects a sampling of their company culture.
Key Features Every Electrician Website Should Include
Now that we understand the importance of a website for electricians, let's explore the key features that every electrician website should include:
Lead Capture Forms
In the competitive world of electrical services, converting website visitors into potential leads is paramount. Lead capture forms are strategically placed throughout your site, allowing visitors to express their interest or request quotes effortlessly. These forms should be concise and easy to fill out, encouraging visitors to take action.
Chat Widgets for Real-time Engagement
In a fast-paced world, potential clients expect instant responses. Real-time chat widgets enable instant communication with potential customers. They offer a convenient way to answer inquiries, provide quick solutions, and build rapport. Integrating chatbots that can handle common queries can also improve customer service, even outside of business hours.
Local Search Optimization
Optimizing your website for local search is crucial for attracting customers in your service area. This involves incorporating location-specific keywords, meta tags, and creating a Google My Business profile. Additionally, including your service areas prominently on your website can help potential clients quickly identify if you serve their location.
Customer Reviews and Testimonials
Displaying genuine customer reviews and testimonials is a potent way to establish trust and social proof. Encourage satisfied clients to leave reviews on your site and other relevant platforms like Google My Business, Yelp, or industry-specific directories. Responding to reviews, both positive and negative, demonstrates your commitment to customer satisfaction.
The Human Touch
While professionalism is vital, showcasing the personal side of your business can foster stronger connections with potential clients. Include staff bios, project photos, and behind-the-scenes content to give visitors a glimpse into your team and your dedication to quality service. This humanizes your brand and builds trust.
Financing Information
Many potential clients may be concerned about the cost of electrical services, particularly for larger projects. Providing information on financing options or payment plans can ease their concerns and encourage them to reach out. Make sure to outline your payment policies and any available discounts or promotions clearly.
Top Electrician Website Builders to Consider
Now that we've discussed the essential features, let's explore some website builders that can help you create a professional electrician website:
WordPress
For those who seek complete control over their website, WordPress is a robust choice. It's highly versatile, with a vast selection of plugins and themes available. This makes it suitable for electricians who want to tailor their website to their specific needs.
Wix
Wix is renowned for its user-friendly interface and offers a wide range of templates that are highly customizable. It's an excellent choice for electricians who want to create visually appealing and functional websites without extensive technical expertise.
Squarespace
Squarespace offers stunning designs tailored for various industries, making it an excellent choice for showcasing your electrician services in a visually appealing manner. Its templates are known for their elegance and professionalism.
Weebly
Weebly is another user-friendly option, offering drag-and-drop website building. It's particularly useful if you plan to sell electrical products, as it provides e-commerce capabilities alongside website building.
The Process of Creating an Electrician Website
Now that you have a clear understanding of the essential features and some design inspirations, let's outline the step-by-step process to create your electrician website:
Step 1: Define Your Goals
Determine the primary goals of your website, whether it's lead generation, showcasing your work, or both.
Step 2: Choose a Domain and Hosting
Select a domain name that reflects your business and purchase hosting from a reliable provider.
Step 3: Select a Website Builder
Choose a website builder that aligns with your technical skills and design preferences.
Step 4: Design Your Website
Customize your website's design, ensuring it's professional, user-friendly, and mobile-responsive.
Step 5: Add Content
Create informative and engaging content for your homepage, service pages, and blog (if you plan to have one).
Step 6: Implement SEO
Optimize your website for search engines by incorporating relevant keywords and metadata.
Step 7: Test and Launch
Thoroughly test your website for functionality and compatibility before launching it to the public.
Step 8: Promote Your Website
Share your website on social media, optimize your Google My Business listing, and consider running paid ads to boost visibility.
Step 9: Monitor and Improve
Regularly monitor your website's performance through tools like Google Analytics. Make improvements based on user data and feedback.
By following these steps, you'll be well on your way to creating a professional electrician website that attracts more customers and establishes your credibility in the field.
Reap the Benefits of Online Success
In conclusion, a professional website is a powerful tool for electricians to enhance their online presence and connect with potential clients. It serves as a 24/7 digital storefront, helping you showcase your services, build credibility, and ultimately grow your business. If you're ready to take your electrician business to the next level, start by building an outstanding website. The time and effort you invest will pay off in increased visibility, trust, and, most importantly, more satisfied customers.
Remember that your website is a reflection of your brand and expertise, so invest in it wisely to reap the long-term benefits of online success.
No time to build a website yourself? No worries! Contact the team at webSURGE today or check out our electrician web design services to learn more about how an improved website can support your business growth goals.
Not Your Typical Website Audit
Power Up Your Website Visibility: Free Walkthrough Report
Most website audits are simply software scans that fail to provide clear guidance for actually improving your website to effectively generate new business.
With our free Website Walkthrough, you will receive a personalized analysis of your electrician website.
Our team of humans will manually research your website and build a customized PDF listing specific improvements tailored to your website.
Since we have plenty of experience in the electrical contracting marketing space, we know the exact steps needed to make a world-class electrical contractor website.
These recommendations will begin the process of transforming your website into your #1 lead generation and sales tool.
Get Your Free Electrical Contractor Website Audit!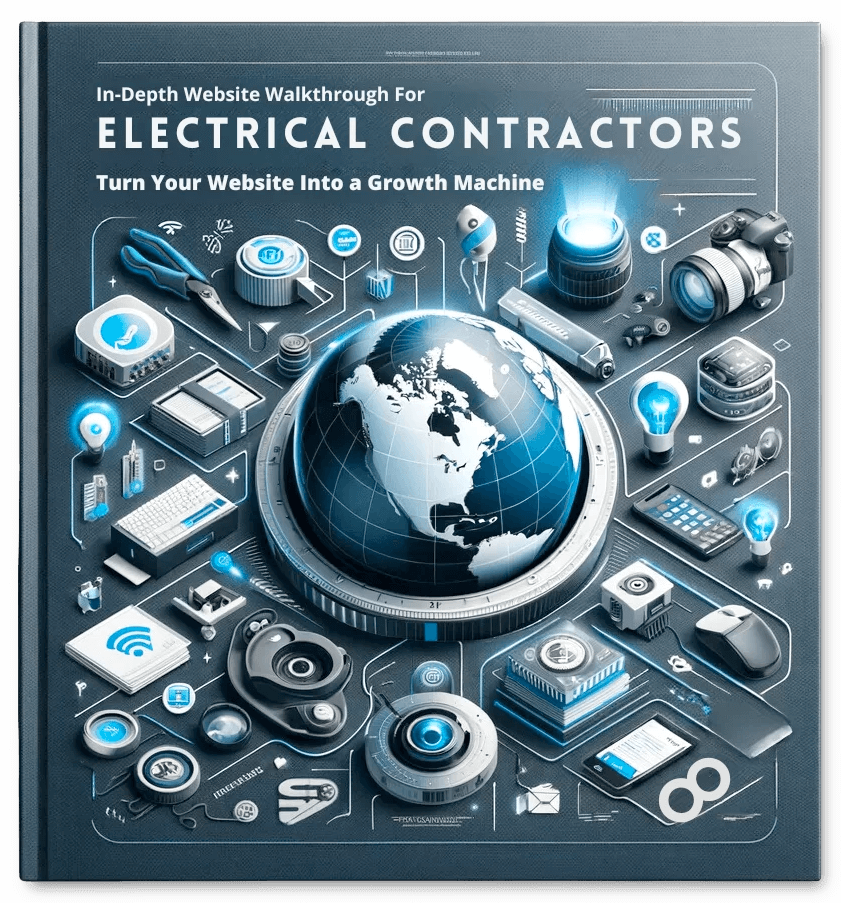 Related Posts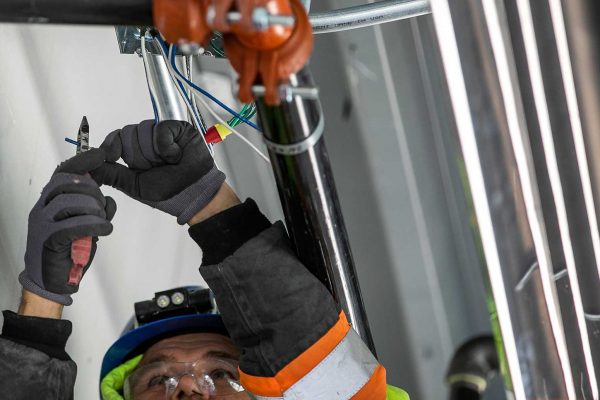 A Deep Dive into the Top 101 Electrician Keywords for SEO & Google Ads Success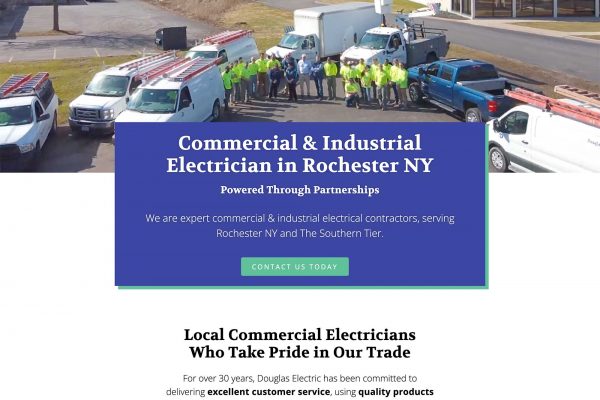 10 Reasons Why Every Electrician Needs a Website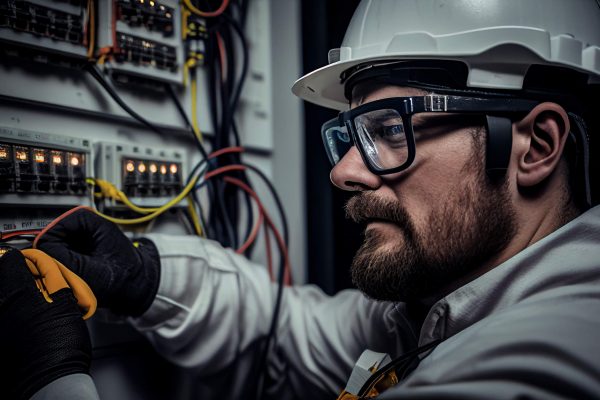 How Electrical Contractors Can Rank on Page #1 of Google