webSURGE takes our vision and makes it into a reality
Ultrafab Case Study
webSURGE worked with Ultrafab, a weatherstripping and industrial brush manufacturer, to create a cohesive brand, enhance their digital presence, and increase leads from their website.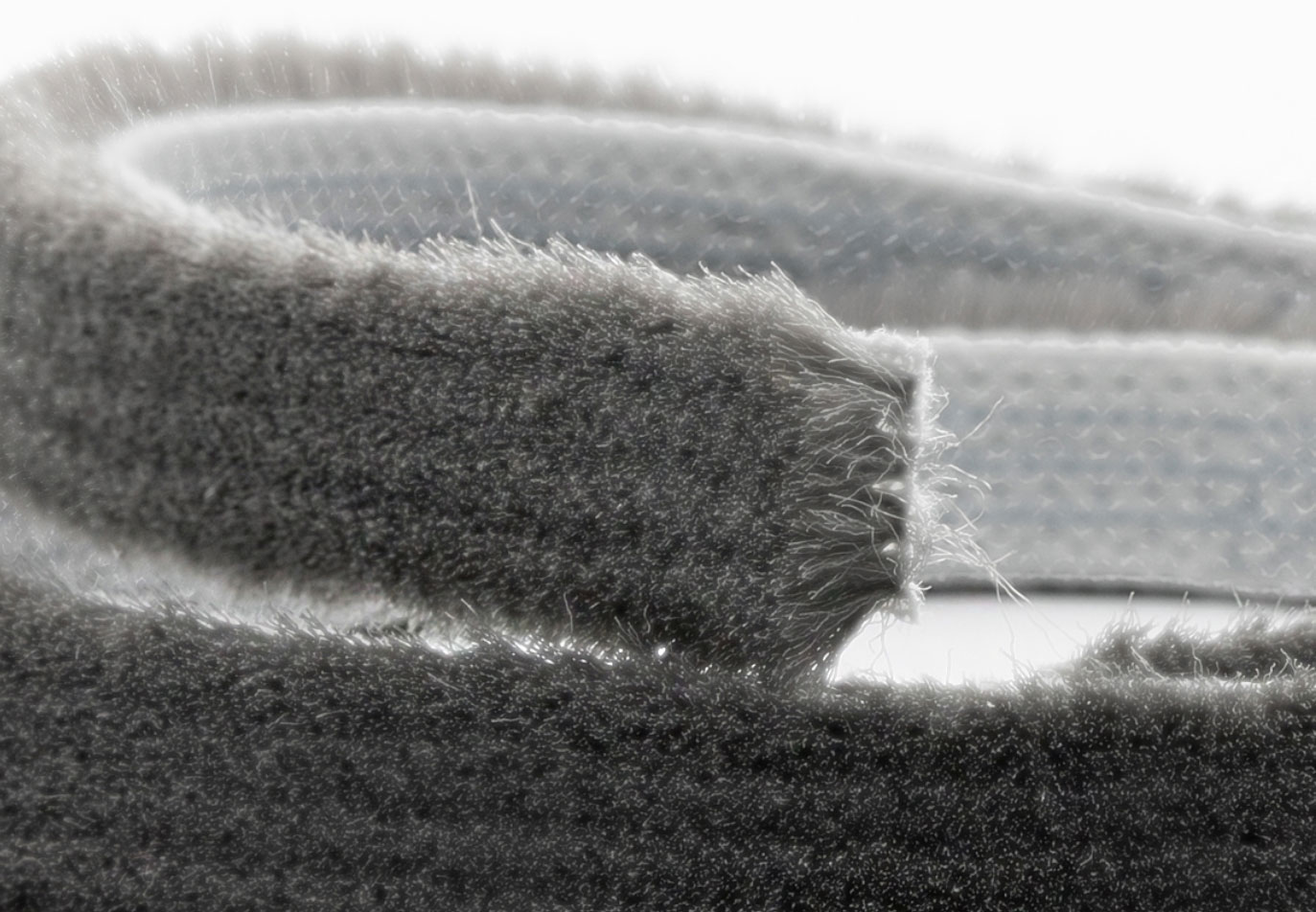 I would recommend webSURGE because they are all-inclusive: they handle everything from start to finish.
Testimonial
After working with the webSURGE team for two years, we asked Kris Roof, the Specialty Products Sales Manager at Ultrafab and our primary contact, about her experience with us.
"My favorite thing about working with webSURGE is the people. They are like a family who welcomed us in." – Kris Roof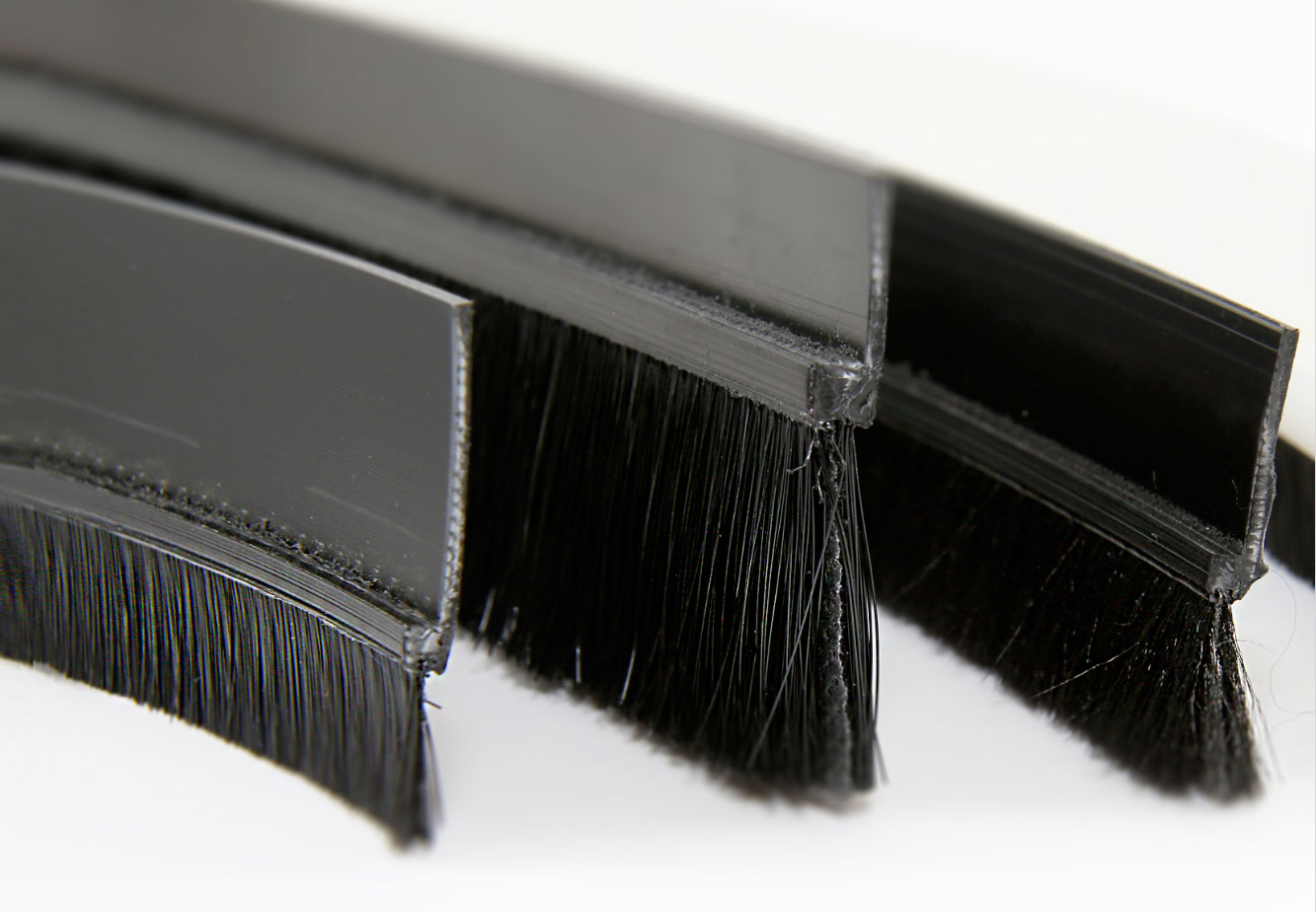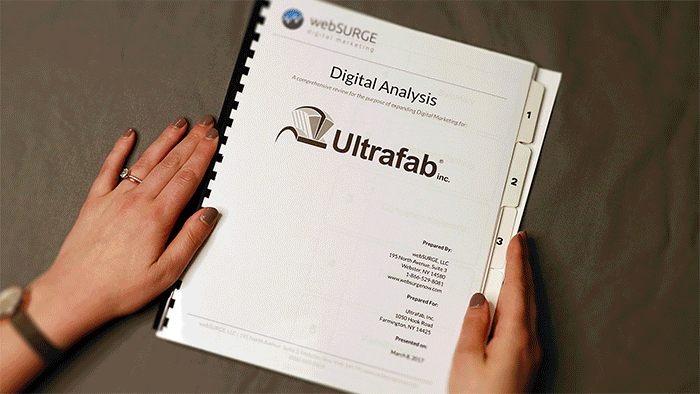 In Ultrafab's DMA, we discovered that they had opportunities to create a more functional and user-friendly website and improve their overall online presence through multiple digital channels. Based on the competition and industry overview, we recommended SEO, website design, and content marketing to be top-priority in their marketing efforts in order to increase their website's domain authority and market share.
DMA
Before we onboard a client, we perform a highly in-depth analysis of their current digital presence and marketing efforts, their ideal buyer, their industry's language and keywords, their competitors' digital presence, and their opportunities with digital marketing. Using numbers and data to analyze these factors allows us to make expert recommendations for their digital marketing efforts.
"webSURGE gave us a main platform for everything, allowed us to have more technical data, better product imagery, and to roll out a website that was more congruent overall."
– Kris Roof of Ultrafab.
Website Design and Development
Ultrafab originally had three separate websites in order to serve various industries and purposes, so our first task was combining their sites to create a single, cohesive online presence.
One of our challenges was learning how to serve the two audiences who use Ultrafab products for vastly different applications. Our design and development departments collaborated to create this custom solution.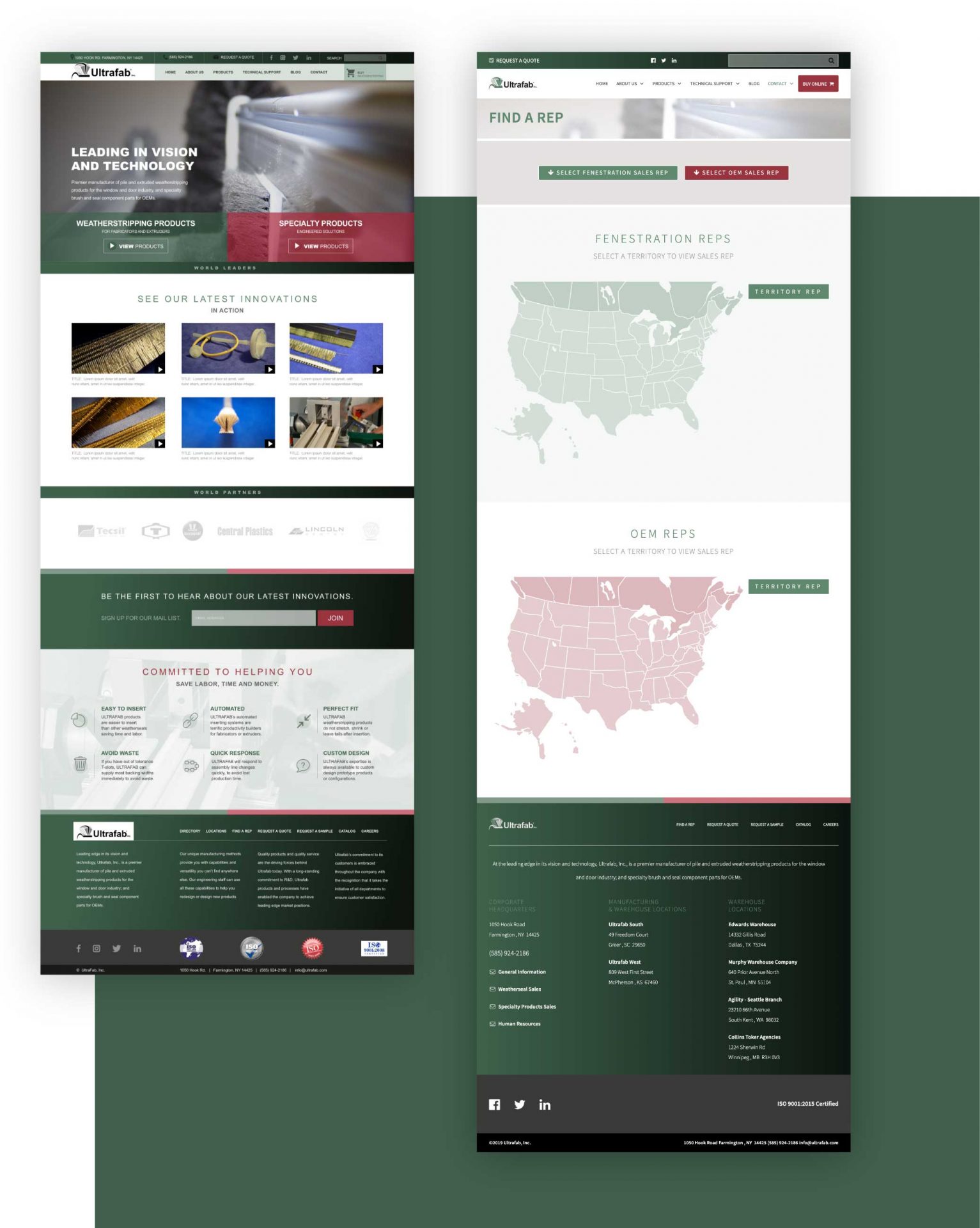 We also inserted personality into their forms with animation and interactivity.
When Ultrafab launched a new product, they turned to us for help getting the word out. This is the cross-channel promotion campaign we created for them based on their audience needs.
Cross-channel campaign
When Ultrafab launched a new product, they turned to us for help getting the word out. This is the cross-channel promotion campaign we created for them based on their audience needs.

Content Type: Landing page
Channel: Website
Purpose: To collect leads through the form with the content offer and inform web traffic about the new product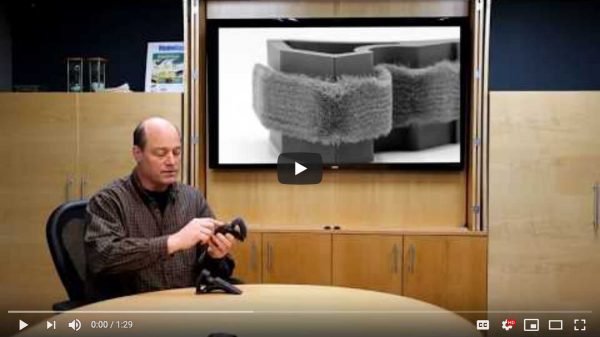 Content Type: B-roll Video
Channel: Social media, website
Purpose: To visually show off the product's features for use in ads and the other promotional videos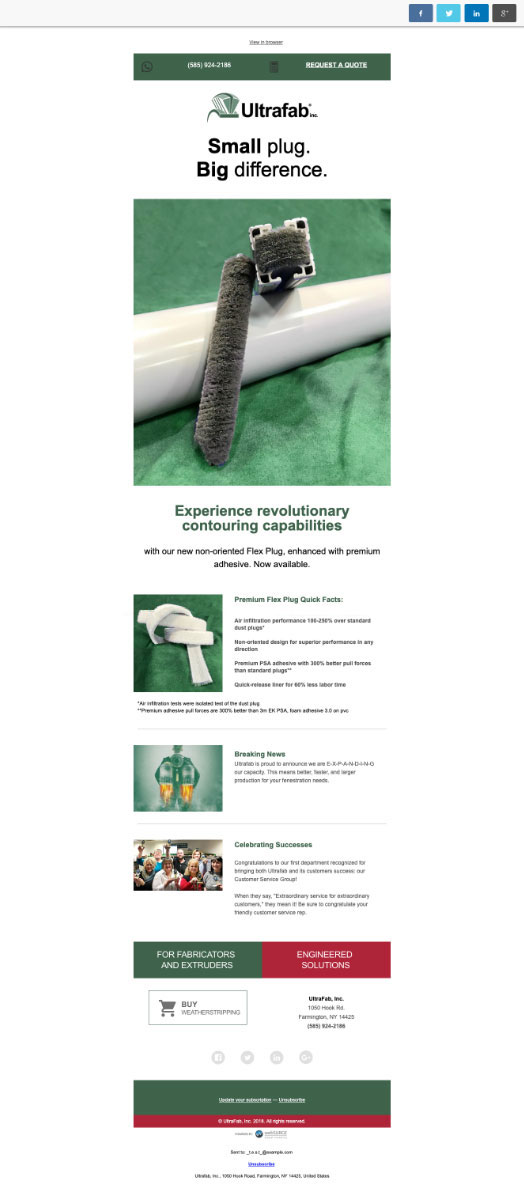 Content Type: Enewsletter
Channel: Email
Purpose: To spark interest of the new product among existing contacts.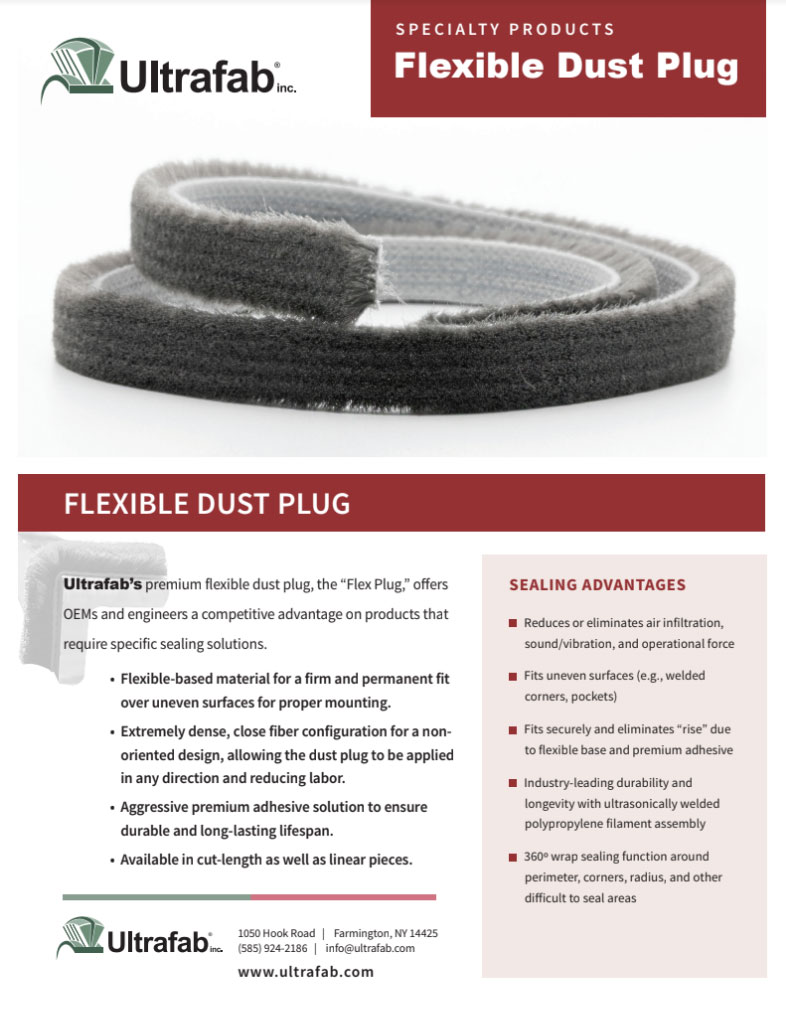 Content Type: Sell Sheet
Channel: Print and website
Purpose: To give customers and prospects product information to keep; to give landing page visitors a downloadable fact sheet about the product

Content Type: Blog Article
Channel: Website
Purpose: To increase SEO for keywords related to the new product and to nominate for outside publication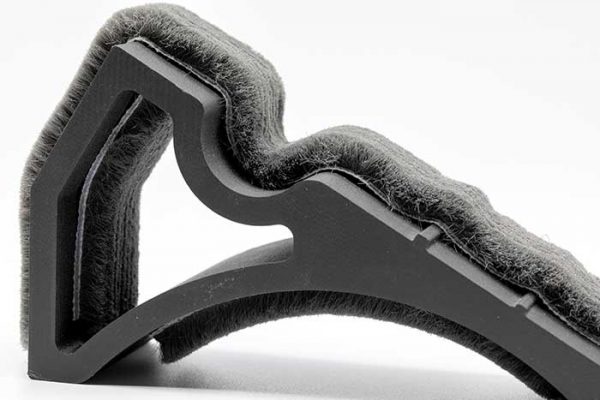 Content Type: Image
Channel: Website, print, social media, and others
Purpose: To highlight the product's features in static images for use in all other promotional materials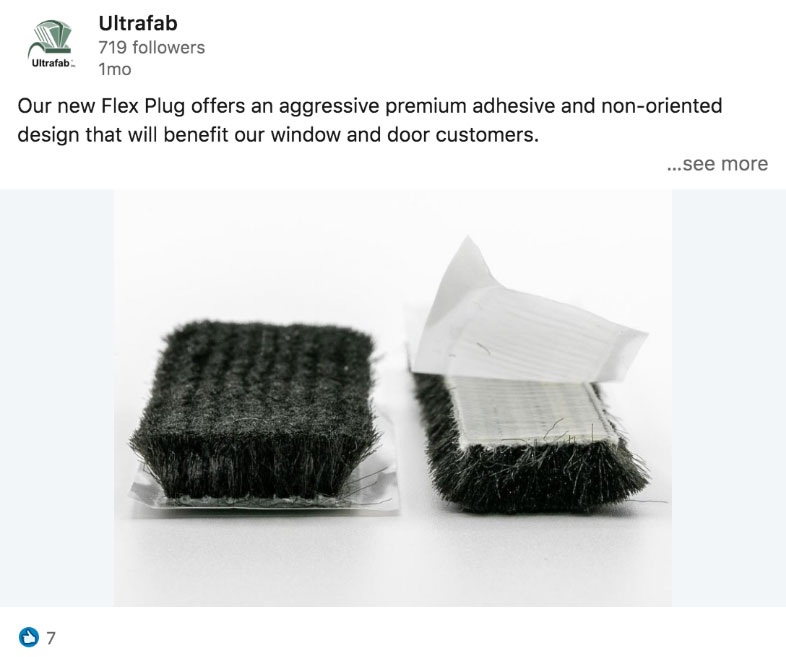 Content Type: Social Post
Channel: LinkedIn, Facebook, and Twitter
Purpose: To promote the new product to social media followers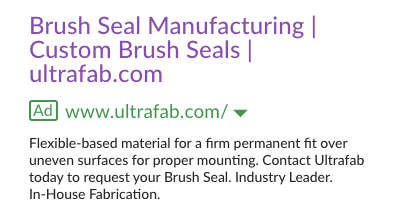 Content Type: Paid Search Ad
Channel: Google
Purpose: To harness relevant clicks from search engine users and drive quality traffic to the landing page
Whatever we need,
[webSURGE] handles everything
– Kris Roof,
Specialty Products Sales Manager at Ultrafab
SEO Work
In 2017, we optimized Ultrafab's website for keywords around "push-in extruded seals." Within the year, we saw most of our selected keywords appear on the first search engine results page of Google and their push-in extruded seal product page visits increase from 115 visits to 725 for the month of September. Compared to September of the previous year (without SEO), they sold more than twice as many push-in extruded seals.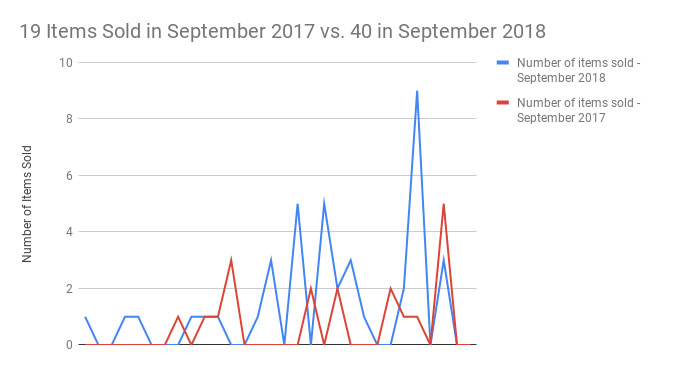 Beyond this targeted SEO project, our efforts have increased Ultrafab's overall organic, or unpaid, traffic tremendously over the years.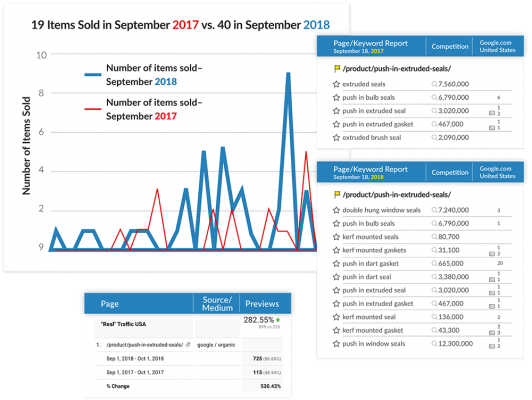 We were tasked with creating visually interesting and appealing images of products that, although useful in their own right, are not considered to be visually interesting.
Photography Work
The challenge for photographing Ultrafab's product was two-fold: one, their products are small, and two, their customers need to see the products' texture, fins, and profiles in great detail to determine if the product is right for their application.
Video Work
Ultrafab, like our other clients, has received terrific interaction and feedback from videos. We created a library of b-roll, slideshow, and promotional videos for Ultrafab that we were able to use in digital marketing efforts and that the Ultrafab team was able to take to tradeshows to show off their products.
Within a month of publishing and driving traffic to this page, Ultrafab received six qualified leads, surpassing our original goal for the first month of the campaign.
Landing Page
Ultrafab wanted to increase their specialty products sales, so we created this landing page for Ultrafab's ad traffic so that visitors can clearly see what it is they're supposed to do and can quickly perform the action they want: requesting design assistance for Ultrafab's specialty products. Landing pages like this are designed for one thing: conversions.
This page captured 6 marketing qualified leads in its first month

Average Open Rate: 36.78%
(industry standard: 20.51%)
Average CTR: 5.14%
(industry standard: 2.18%)
Email Marketing
We used Ultrafab's email marketing to create brand awareness among current and potential customers by sharing valuable articles, resources, and custom infographics. We also leveraged Ultrafab's emails to announce new products, tradeshows, and other company news.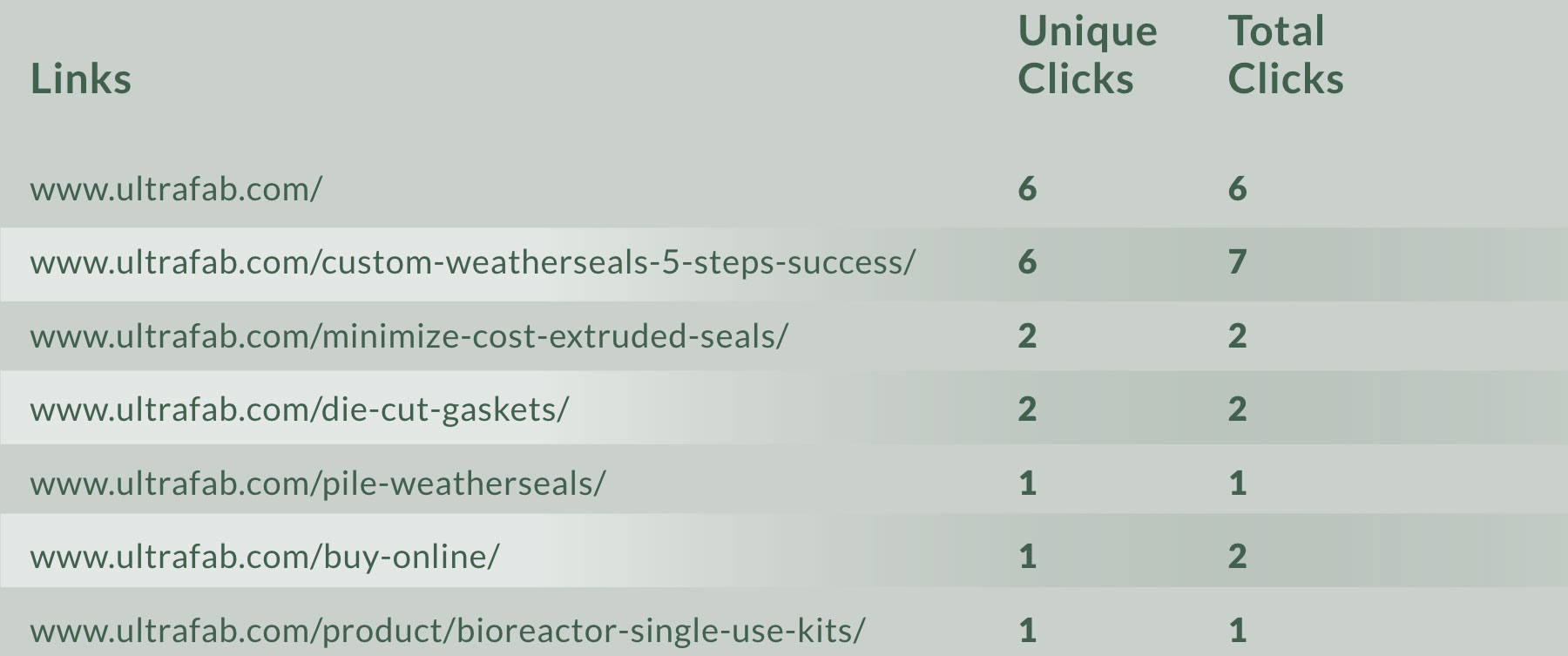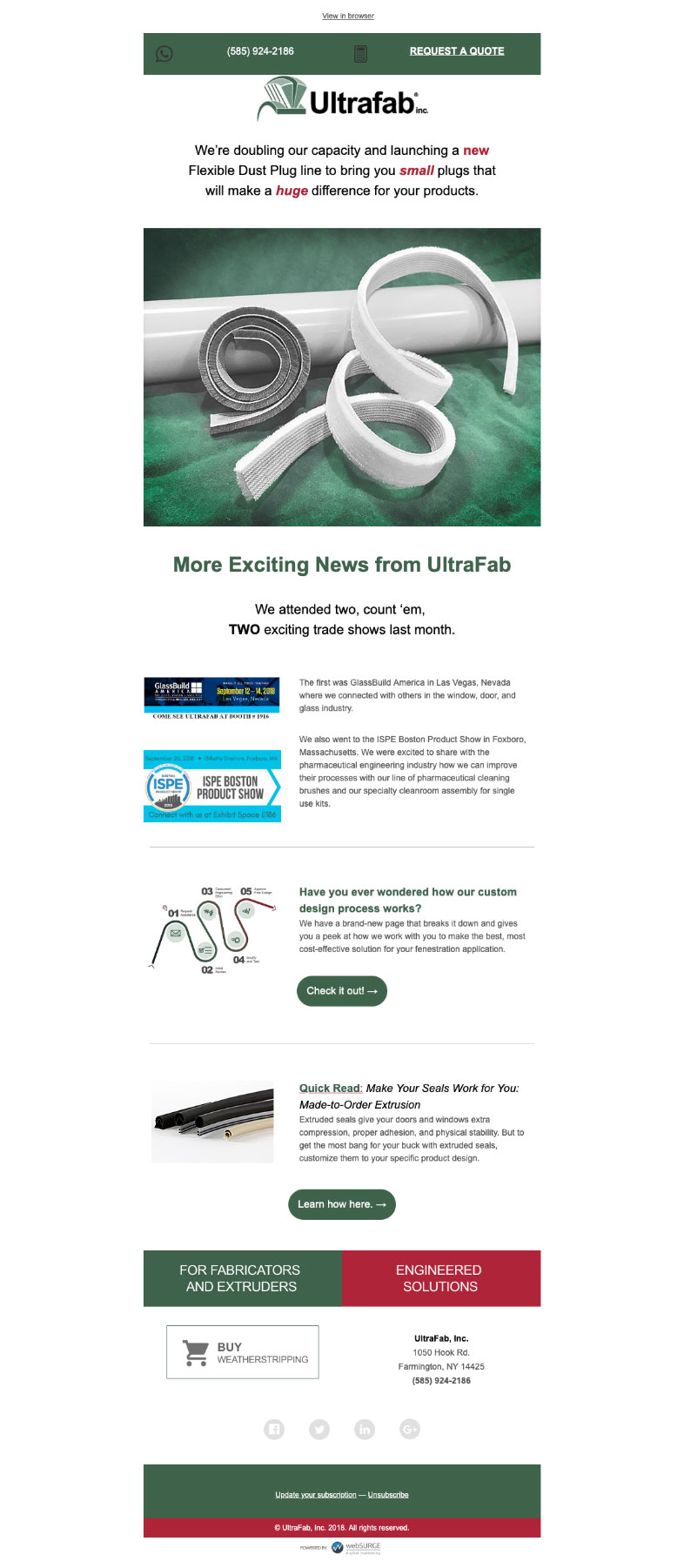 Email is a great way to interact with current customers as well as new prospects.
Interested in similar results?
Fill in the form to learn how digital marketing can transform your lead generation.