We've seen an invaluable amount of change
in our marketing strategy"
Copeland Case Study
Three words that described Copeland's online presence: hard to find. The website was hard to find in search engines, key information was hard to find on the webpages, and the Copeland brand was hard to find on the internet.
By building Copeland Technology Solutions a strong online presence from the ground up, we were able to establish the Copeland brand as an authoritative, innovative leader in IT solutions, build trust among their current clients, and drive traffic to their website.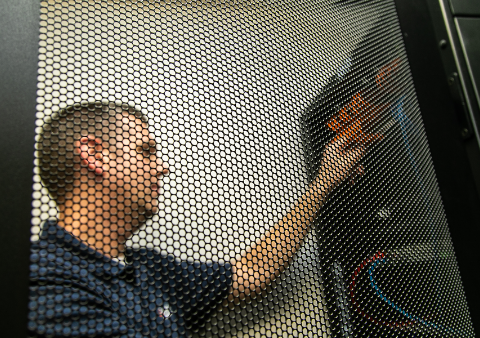 Website
Before we started working with Copeland, their website was outdated and not mobile-friendly, and it did not adequately show the strengths and capabilities of their company.
They also had an abundance of content that wasn't well organized, making it hard for the user to read their work and hard for the search engine to understand the site.
So our first task was to reorganize the content, update the design, and simplify the website to better guide users through the site and sales funnel.
We also included a succinct, compelling positioning statement and a CTA to compel users to learn more about Copeland's Managed IT Services.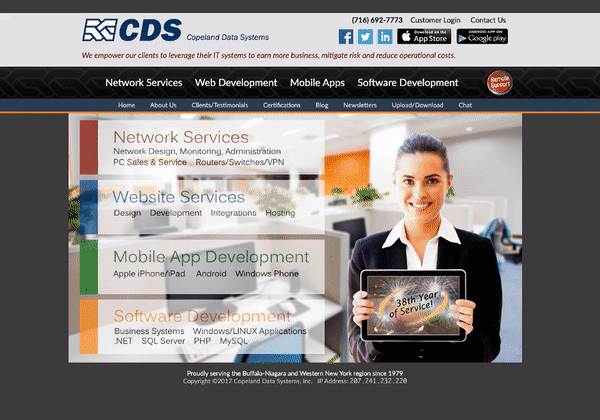 Throughout the site the copy was written to be educational and informative, espousing the benefits of a managed service provider in general but not necessarily touting all that is great about Copeland themselves. We wrote the website with business drivers in mind – discussing the impact of a managed service provider on revenue, compliance, efficiency, security, and more – rather than talking about the features and functions of Copeland's solutions.
Interactive Web Content
Copeland's target persona is responsible for the cybersecurity of their organization, so we wanted to find a way to educate the user in an interactive, app-like way. With this in mind, we created a multi-step quiz that not only grades their cybersecurity strength but also delivers recommendations for improvements based on their answers.
The quiz required research and content creation, custom development, and email automation. Copeland uses this quiz as a way to capture leads and interact with prospects.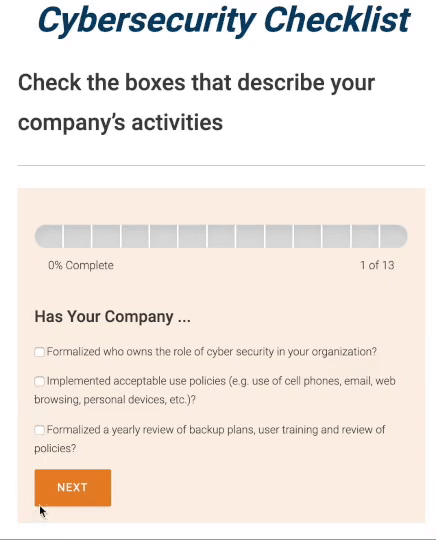 Search Engine Optimization
Ranking for keywords in the managed IT space is highly competitive. We reorganized and optimized the stockpile of content Copeland had on their old website so the search engine could better recognize Copeland as an authority in the industry.
In January of 2019, we made some serious updates to the homepage content and added a new master page about their main service: Managed IT Services.
Rankings skyrocketed. Over the next few months, the average number of top positions that Copeland held for its keywords was around 20 – a stark contrast to the one or two positions it averaged before.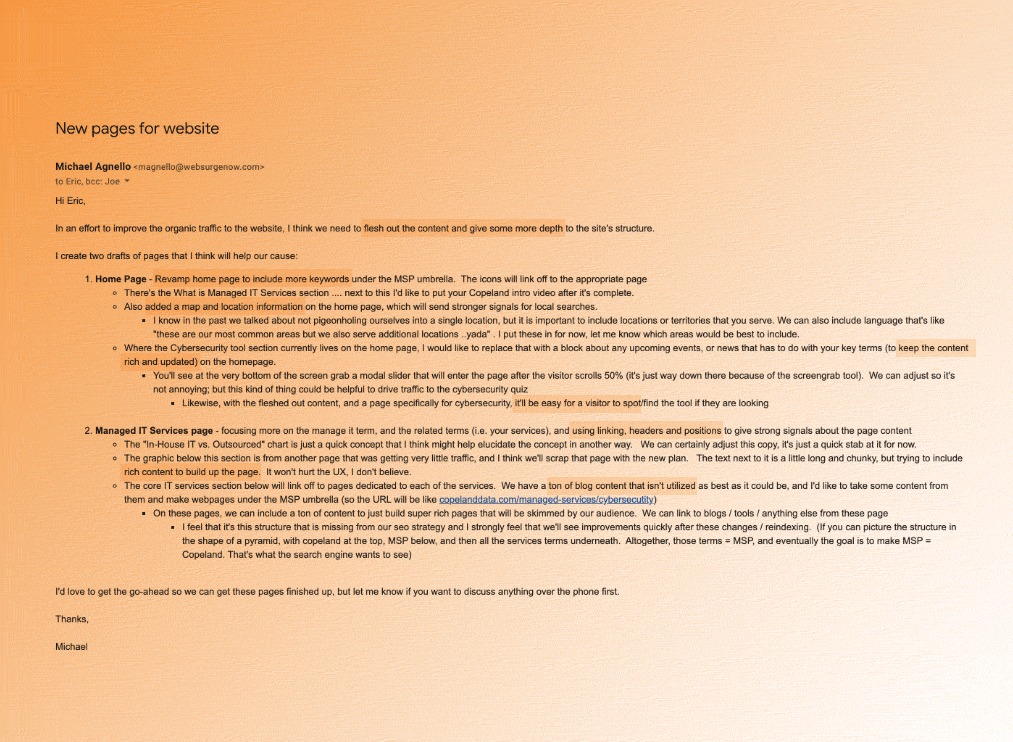 SEO Results
25
Keywords Ranking on Page 1
74%
Increase in Organic Traffic
Take a look at Copeland's video library
Paid Search and Display Ads
For Copeland, we created and A/B tested a variety of headlines and descriptions for ads in the Google network. Because the managed IT services keyword landscape is so competitive, bidding for certain keywords in this industry can get really expensive, so we optimized Copeland's ads for keywords that would use their budget in the most effective way possible.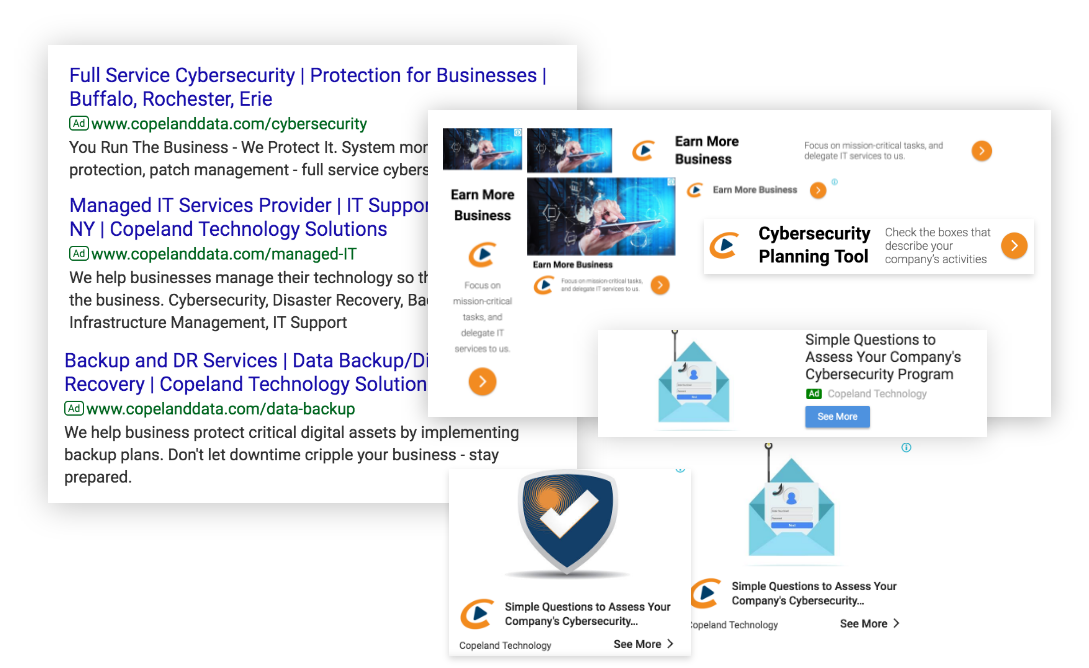 We also used retargeting ads to keep Copeland top of mind for our past website visitors. These display ads helped Copeland's branding so that prospective leads would be warmed up to Copeland when they needed to find a managed IT services provider.
Social Media Marketing
Copeland works closely with its clients to create a strategic IT business plan, so it's critical that their clients trust and work well with the Copeland team. To facilitate this, we positioned Copeland as both a knowledgeable and personable source for IT expertise.
Social media marketing was the perfect avenue to showcase both Copeland's expertise and personality (which, luckily, they have plenty of). We often post about work anniversaries, birthdays, or corporate outings on behalf of the Copeland team.
We also used sponsored posts on LinkedIn as a channel to increase their brand awareness among their target audience in Buffalo. This helps cement Copeland's authority as the IT experts in the minds of key decision makers in their area.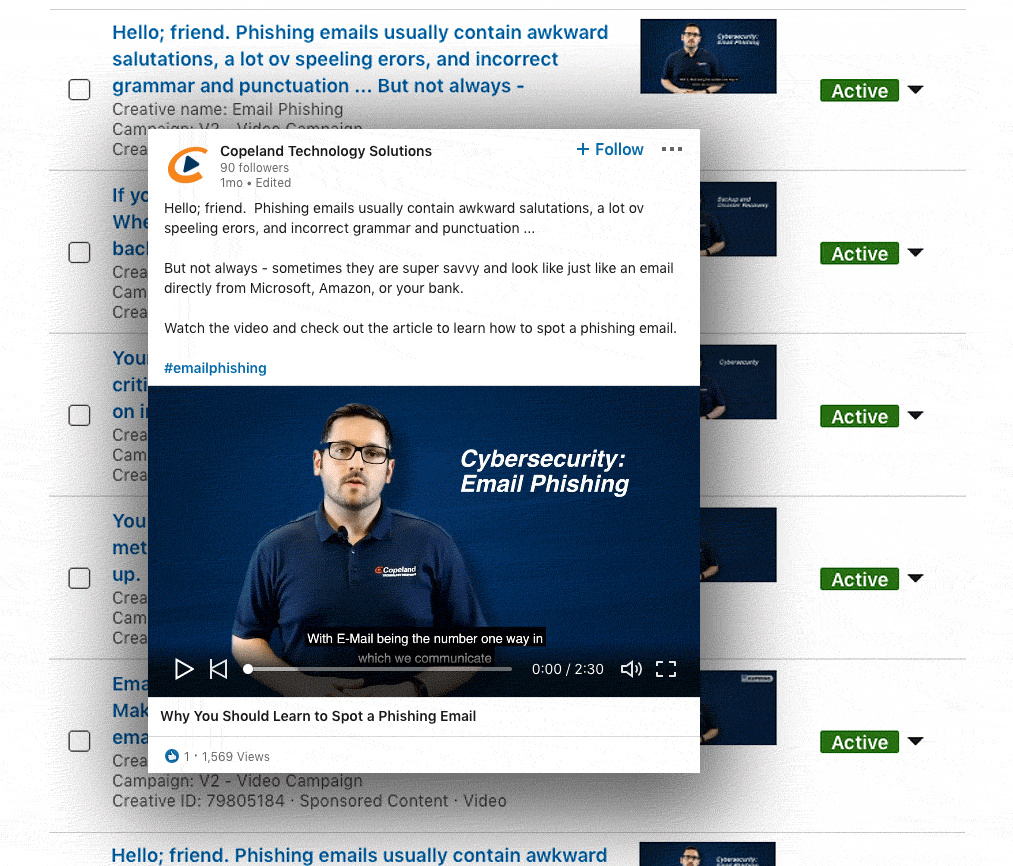 One Month of LinkedIn Advertising
6,418
Ad impressions in target industries
1,337
Video views by senior-level professionals
Email Marketing
Even before they started working with us, Copeland sent quarterly enewsletters to their current and prospective clients to alert them to upcoming changes in technology, share helpful tips and content, and update them on company happenings.
When they started working with webSURGE, we turned their enewsletters into branded pieces that were functional and visually pleasing in a variety of web browsers.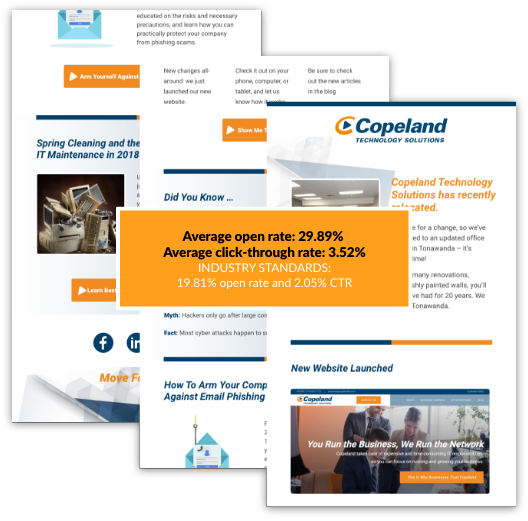 Email Marketing Results
29.89%
Average Open Rate
(industry standard: 19.81%)
3.52%
Average Click-Through Rate
(industry standard: 2.05%)
Content Marketing
"I don't have the time or the resources to spend writing content or explaining to someone what we do and how we do it. webSURGE has been critical in getting who Copeland is and what Copeland does in a readable format and now into video." – Eric
We write regular content for Copeland's website that serves two purposes. The first is to help out their prospects, answer their questions, and guide them through the sales funnel. The second purpose is to increase Copeland's ranking in Google's search results.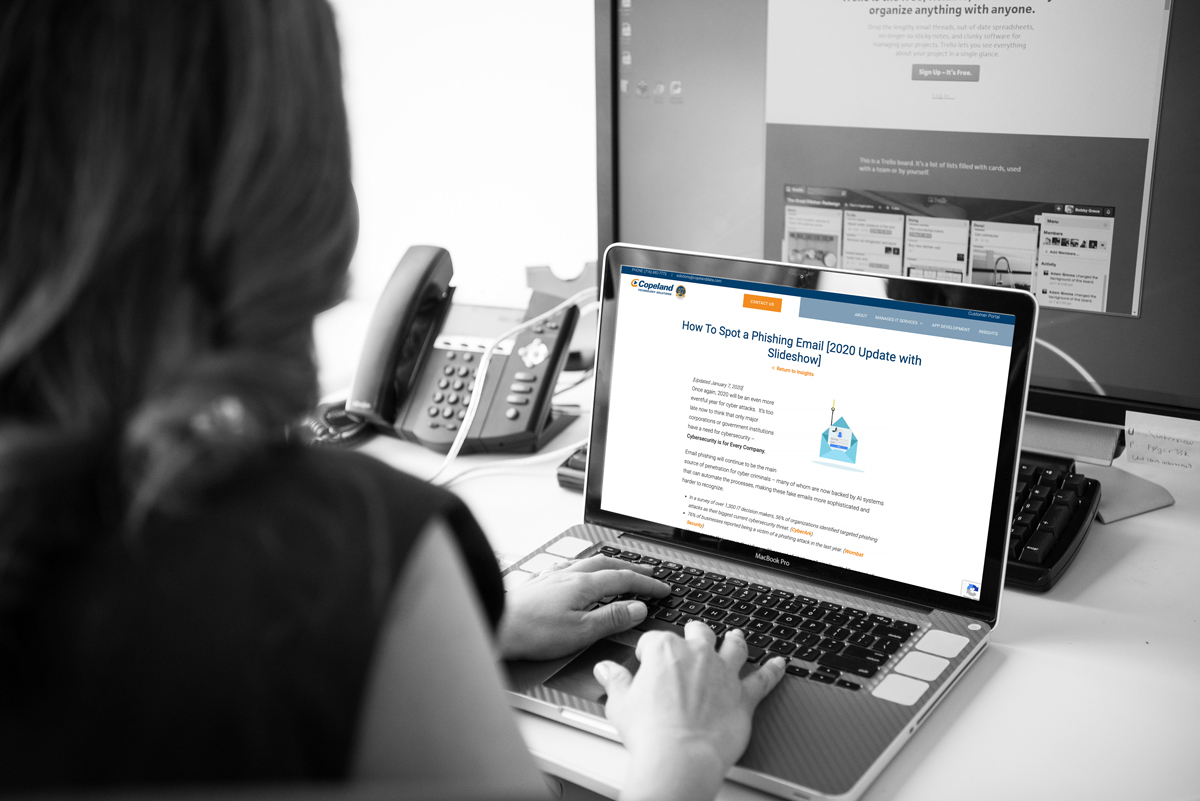 Blog Post Success
SERP Position #1
For "How to Spot a Phishing Email 2019," Ranking Above Sites Like Forbes, FTC.gov, and safesafeonline.gov
Interested in similar results?
Fill in the form to learn how digital marketing can transform your lead generation.